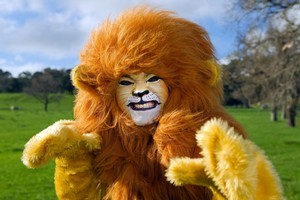 If you're in the business of creating theatre magic for children and their adults, who better to consult than an actual magician when you want to hold your audiences spellbound?
Tim Bray Productions has been working with Wayne Rogers, aka The Amazing Chicane, on its latest school holiday show, A Lion in the Meadow and Other Stories.
The show weaves together four classic stories - A Lion in the Meadow, The Witch in the Cherry Tree, Leaf Magic and The Reluctant Hero, or Barefoot in the Snow - by much-loved New Zealand writer Margaret Mahy. It features actors Elizabeth Tierney, Lori Dungey, Adam Burrell and James Kupa.
Bray said it required some practical magic to bring certain elements, especially in leaf magic, to life. So he consulted Rogers, who first took up magic as a child and has conjured it into a fulltime business entertaining adults and children alike.
Bray said Rogers, who has a keen interest in theatre and a background in television, was an ideal collaborator who was able to help create an illusion of a magical leaf that can dance and float.
He believes it was fitting to use magic in a rendition of Mahy's tales because they showed the power of imagination to transform the world, especially through the eyes of children. "They are such good stories and that's why they endure. There is magic in her stories that lead you into other worlds and she always resolves each story so beautifully."
Magic also plays a strong part in the Outfit Theatre Company's latest school holiday show. The Auckland-based company has adapted the legend of King Arthur.
It starts when the famed wizard Merlin (Andrew Ford) arrives in a medieval village to recruit its bravest warriors for a noble quest. Wart, a stable sweeper, amateur inventor and general all-round embarrassment, is selected to join the group as a bag carrier, but could there be more to Wart (Chris Tempest) than meets the eye?
As the band of heroes bumble through enchanted forests and battling evil villains to reach the Sword in the Stone, Wart must find the courage to transform from lowly stable boy to noble King Arthur.
Outfit co-artistic director Sarah Graham says the company decided to stage another children's show after the success of its Treasure Island production. "It went so well that we thought, 'why not?' and began throwing ideas around for another show this year. We liked the idea of a growing up story, one which involves a journey and swords and knights, so we settled on adapting King Arthur but keeping it pre-Camelot. I think kids will relate better to a Sword in the Stone-type tale."
Given its reputation for tackling gritty and adult subject matter, you might be forgiven for thinking kids' theatre wouldn't be the Outfit's game. But Graham says it was good to stretch themselves as performers and there were parallels between making theatre for kids and adults.
Company members prefer devised theatre, so adapting a known story gave them scope to add their own touches and they looked for work which would employ the talents of a large cast. They like action sequences and are adept at creating totally believable worlds with a minimum of props or set.
Graham says there is strength in numbers and they used a tremendous amount of physical theatre, relying on their bodies to create the illusion of props and set. She was confident they could transform the Auckland Performing Arts Centre (Tapac) into the boisterous and bustling world of Medieval England.
Meanwhile, juggling, circus routines and acrobatic feats can be found at the Auckland Town Hall Concert Chamber when internationally acclaimed clown Jamie Adkins brings his one-man circus comedy to town.
Circus Incognitus features a shy clown who needs the audience's help to face his biggest fear: speaking in public. Using everyday objects, Adkins builds his set from discarded props while performing balancing acts, tightrope walking, jumping, twisting and falling.
The aim is to encourage audiences - young and more mature alike - to find the courage to try new things, and not give up when all goes wrong, and be amazed because you never know what you can achieve until you try.
And that's one of the themes in Phineas Phrog's ninth birthday show. The company, which gives traditional fairy tales a Kiwi spin, stages The Three Little Pigs at the Bruce Mason Centre. Music, mayhem, magic and a big bad wolf are guaranteed.
School holiday theatre
What: A Lion in the Meadow and Other Stories
Where and when: PumpHouse Theatre, Takapuna, July 18-30
What: King Arthur
Where and when: Tapac, Western Springs, July 20-30
What: Circus Incognitus
Where and when: Auckland Town Hall Concert Chamber, July 28-30
What: The Three Little Pigs
Where and when: Bruce Mason Centre, July 26-31