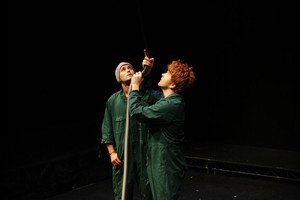 Compared with last week's lineup, this week's compilation of 10 10-minute plays for the Short+Sweet competition is a great success. There's more to look at: action is dynamic, casts are larger, acting (mostly) more assured, props inventive and costumes bright. There's more political bite, more conceptual risk-taking, more sexy sassiness.
Conception, birth and death all feature - humour ranges from juvenile to dark. Who has life choices, who doesn't and who decides for others are questions for the evening.
Highlights include 13 Weeks, which pits the Prime Minister against a DPB mum on an infotainment TV show. Even John Key impersonator Greg Goodyer can't help but laugh at some of the PM's more ridiculous, true-to-life lines, as he says them (see Goodyer in the John Key New Zealand Prunciation [sic] Guide clips on YouTube).
Roach Blues, a prohibition-era tale in rhyming verse directed by Kiel McNaughton, is hard to follow but easy on the eye. One of Auckland's slickest young companies, The Outfit Theatre, offers absurd surprises and rule-breaking in something called A Formidable Contender for a Prodigious and Notable Endeavour.
The humour of Six Sides rests on jerky doll movements and a pair of male legs in black stockings sticking out of a large cardboard box, but for 10 minutes, that's all you need. A tuxedo-tailed sperm (Grae Burton) and a prom-dress-wearing egg (Cath Boniface) have a cute conversation in Preconception.
Things turn Kafkaesque in The Cure, stylishly if statically directed by Tom Sainsbury, about a scientist who finds out not all the world wants a cure for cancer. A similar bewilderment about how little we are in control of our own lives is found in the thoughtful Perfect Life, written by Angie Farrow.
We even get a cleverly crass and hilarious musical set at Kelly Tarltons - A Stitch in Time - which feels like an impressive university revue skit.
It's not perfect but Short+Sweet Week 2 feels relevant and energetic, and well worth the $25 ticket price.
THEATRE
What: Short+Sweet Week 2.
Where: Herald Theatre, till Sat.
Reviewer: Janet McAllister.