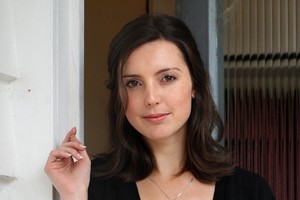 Friday night drinks? Meet me at:
The Wine Cellar. It's quirky, relaxed and has an authentic air of unpredictability.
Where I'll be wearing my new:
Winter boots. I don't care what the dress code is, I'm wearing them, it's cold.
And this weekend I'm planning on:
Sneaking in a few rehearsals for a play I'm doing in this year's Short+Sweet festival. It's a cool little 10 minute, 2 person piece called Perfect. The people I am working with are wonderful - it's nice when life dishes up the good stuff.
But first I'll need to refuel at my favourite cafe:
Jaffa on Richmond Rd. Try the Balinese sticky rice, it tastes like summer.
Saturday evening. If my dreams came true there would be a gig by:
Dream gig would be: An Evolution of Pop Spectacular, starting from the 50s right through to now, all of the main players performing their hits live. Gah, that would be cool.
Reality based Gig: There are two Wellington bands that make me smile till it hurts, the recently disbanded (excuse the pun) Odessa and The Wellington International Ukulele Orchestra.
But if there's nothing else to do I'll probably just:
Mooch. Slowly doing everything and nothing.
On my stereo/headphones right now is:
This American Life - great podcast; they made fun of it on the Simpsons, so it must be good.
The books I can't put down are:
Any book of riddles - Google "Who owns the fish?" Einstein came up with it and said 98 per cent of the population wouldn't work it out. I know someone who solved it in half an hour, while watching TV. I have 3 pages of DIY flow charts and am still going ...
The TV show I take the phone off the hook for:
NZ's Next Top Model, for so many reasons.
The movie I've been dying to see:
Russian Snark, a NZ film playing at the Rialto about a Russian film-maker who comes to NZ to realise his dreams. Apparently it's fantastic.
A non-cooking Monday night means takeaways from:
Ponsonby Rd Food Court, where you are guaranteed to find good food and a friend to share it with.
Or a splash-out Wednesday night restaurant would be:
Clooney, they make food into foam and foam into food, just magic.
*Liesha Ward-Knox is in Perfect at the Herald Theatre until Saturday. Short+Sweet theatre runs till July 17.