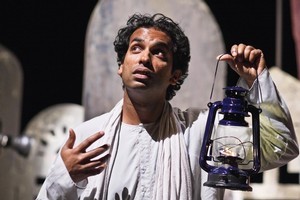 Theatre company Indian Ink couldn't have asked for a better 15th birthday gift. Having toured successfully and extensively through New Zealand, Australia and Asia, the company is the first from this country to be signed by American artists' representative David Lieberman.
Having American representation means the company, formed by Jacob Rajan and Justin Lewis in 1996, can take its blend of traditional theatrical forms, such as mask work, puppetry, live music and drama, on tour in the United States, starting with performances of The Guru of Chai in Los Angeles in August, Virginia in September and St Louis in November.
Indian Ink, just the ninth addition to the Lieberman roster, joins the likes of the Kronos Quartet, Tim Robbins' Actors' Gang and the Merce Cunningham Dance Group. On its website, the agency describes Indian Ink as having "created a series of remarkable theatre productions of intimate scale that remind their audiences of the simple truths of life".
But before Indian Ink takes flight, Aucklanders get a chance to see its latest show The Guru of Chai.
Adapted from a traditional Indian folk tale, it tells the story of a poor chaiwallah (tea seller) whose life changes when a young girl is abandoned at a busy railway station and brings the place to a standstill with the beauty of her singing.
Rajan brings a plethora of offbeat characters to life using puppetry, masks and spot-on comic timing. Characters include seven abandoned sisters, a policeman, a poet and even a parrot. In one scene, he portrays 12 people pretty much simultaneously.
It's an approach that has made Indian Ink firm favourites with New Zealand theatregoers, thanks to shows such as Krishnan's Dairy, The Candlestickmaker, The Pickle King and The Dentist's Chair.
Despite its success, they initially opted to perform The Guru of Chai for small groups in private homes, community halls, drama classrooms and church auditoriums. Lewis says the "living room" style of production provided a chance to explore a different way of building new audiences and marketing the show.
"It was a fantastic launch pad for a new production because it means we have a whole lot of champions who are talking about the show," he says.
Given that the set can be packed into a purpose-built box slightly bigger than a suitcase, they don't have to worry about excess baggage charges for the trip to America. Nor are they overly concerned about transferring the show to bigger theatres.
From smaller performance spaces, Guru moved in the second half of last year into professional theatres throughout New Zealand, Australia and Singapore where it was seen by around 5000 people. Its Wellington performances earned it three Chapman Tripp Theatre Awards: best actor, best composer and play of the year.
Lewis and Rajan are confident that the play will succeed when it is performed at the Maidment Theatre. They say reconfiguring seating in the Maidment makes it more intimate and bringing the show to the front of the stage means it sits like "a jewel" in the theatre. "It looks like a diorama with the theatre around it - and then there's the magic of the lights. We can use them in ways we couldn't in smaller venues and the light and dark creates some powerful possibilities," says Lewis.
He says it was important to the company to perform in Auckland before heading to the United States.
"Aucklanders have always been loyal supporters and we consider it to be a very important city for us. We wanted to make sure the show was just right, and take the time to make it so, before opening in Auckland. A longer journey has given us a chance to polish it."
While it has been 15 years since Krishnan's Dairy was first performed, Lewis and Rajan have continued to work with the same creative collaborators including dramaturg Murray Edmond, designer John Verryt and musician David Ward. They believe consistency has helped the company survive and thrive.
"I guess we've also developed a relationship with our audiences because we've been around for 15 years. If you went to see an original production of Krishnan's Dairy and were pregnant at the time, you could now come to see The Guru of Chai with your 15-year-old."
Performance:
What: The Guru of Chai
Where and when: Maidment Theatre, June 28-July 16