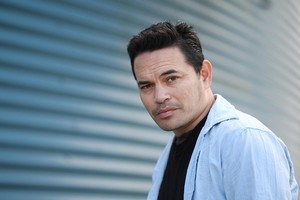 Taki Rua's stylish revival of Albert Belz's 2003 award-winning play Awhi Tapu delivers an entertaining but deeply disturbing glimpse of a dysfunctional small town inflamed by a volatile mix of chronic unemployment, boredom, racial resentment and casual dependence on alcohol and drugs.
Belz's writing displays a boldness and verve that confirms his reputation as one of New Zealand's most innovative and original playwrights.
The narrative voice is a playful pastiche that slips from the deadpan irony of a fantasy film script to passages of blunt vernacular and flashes of understated lyricism.
Leo Peters' direction is equally inventive. Opening with an effective demolition of the fourth wall, the audience is drawn into the laid-back, sing-along vibe of a garage party and as the story unfolds we are treated to a dazzling array of theatrical devices.
The grungy DIY style is nicely matched by Rose Kirkup's set design in which a haphazard collection of wooden pallets becomes an intricate scaffolding for the quick-fire scene changes.
The real strength of the play comes from sharply drawn characters who are engagingly brought to life by a talented young cast. Tola Newbery is particularly appealing as he captures the mischievous charm of a small-town rascal, while James Tito has a fine singing voice which carries the emotional weight of the drama.
With a bold disregard for the touchstones of Maori literature, the ancestral village is an environment so broken the community matriarch has abandoned it for a Rotorua rest-home and even the local gang leader advises followers to look beyond the town.
The central action makes a fairly unambiguous reference to the arson attacks by Ruatoria Rastafarians in the 80s but doesn't draw any lessons from the self-defeating rebellion.
The play's reluctant activists claim inspiration from the heroic traditions of Tuhoe resistance but appear to be motivated by an inglorious mish-mash of Messianic visions, unspecified grievances, personal traumas and adolescent thrill at mindless destruction.
The only misstep comes with an attempt to squeeze an upbeat Hollywood ending on to the tragic and thought-provoking climax.
What: Awhi Tapu.
Where: Tapac, Western Springs, to July 2.