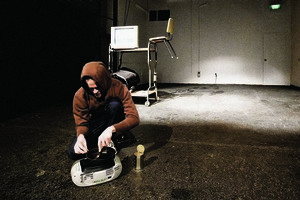 Actor Tim Carlsen could have made a whole show based around his arrival in New York.
Carlsen, then 22, had won a two-month internship at the Wooster Group, a venerated New York company of artists who make work for theatre, dance and media.
But first the boy from east Auckland who had never been further afield than Australia had to get from the airport to the East Village.
He found a taxi driver, negotiated a price and got taken for a ride. When they arrived at his destination, the driver claimed the price they negotiated was $20 higher than Carlsen recalled. They haggled. The driver tried taking Carlsen to the police station; Carlsen hopped out but couldn't get his bag out of the boot.
Eventually they met halfway and Carlsen paid $10 extra but found himself at nearly midnight a mile or two from where he was meant to be. But he says there were people everywhere - New York isn't known as the city that never sleeps for nothing - and they were friendly and helpful with directions.
Carlsen was determined not to let his New York "initiation" put him off.
"I had always felt a certain amount of romanticism about New York," he says. "I saw it as a place that was packed with culture - lots of theatres and lots of amazing theatre schools - where I would be in a melting pot of things I was totally passionate about.
"I figured the taxi experience was one of those 'only in New York' moments and got on with it. I loved New York. I totally loved it."
But the bright lights of his first big city didn't blind Carlsen to some of the grittier realities he saw around him - like the extent of New York's homeless population. Faced with making a solo show to graduate from Toi Whakaari New Zealand Drama School, Carlsen knew he had his starting point.
Now, after nearly two years in development and input from the Wooster Group, Carlsen's debut play One Day Moko is about to open in Auckland. It offers a vivid and frank look at the world of the homeless living in the city.
The central character is Moko, a Maori man from the Far North who's been in Auckland for 21 years and lived rough for most of that time. He lives under a bypass and fits his life into a beaten-up shopping trolley. People know him and while they might think Moko wanders aimlessly, he has people to see and places to go.
When Carlsen returned from New York, he volunteered at organisations such as the Auckland City Mission. From homeless football games to participating in the Mission drama group, Carlsen got an insight into homelessness. He says he was surprised to discover how structured life is for many street people.
"I thought there would be no sense of routine or structure but every one of those people had an order to their lives. Certain people would turn up to the drop-in centre at very specific times and then leave very routinely. It was almost as if they had appointments to keep."
Carlsen says his main interest became the ways in which all of us structure our lives and become creatures of habit. He says it shows the universal traits we adopt to survive.
Carlsen performed One Day Moko at drama school and then, via Skype, for the Wooster Group and says this was a highlight of the development process. They instantly added sound and visual effects that Carlsen, and director Sophie Roberts, have integrated into his performance.
Moko, described as "cheeky, charming and churlish", interacts with nine other characters and different environments, all met through a television screen.
As soon as he finishes One Day Moko, Carlsen is into rehearsals for Silo Theatre's shockingly dark tale I Love You, Bro which starts at the end of next month. Based on a true story, the one-person show explores how a teenage chat room junkie created an online fantasy world and conspired to murder himself.
Carlsen also has two ensemble pieces to look forward to this year. He'll appear in Auckland Theatre Company's The End of the Golden Weather, then Silo's final show of the year, Tartuffe. "It's going to get kind of busy. I suppose this is the calm before the storm."
Performance
What: One Day Moko
Where and when: The Basement, Lower Greys Ave, June 28-July 2