British star Ed Sheeran has been confirmed as the voice of the second Hobbit's movie's theme song.
The 22 year-old English singer-songwriter's I See Fire, which he specially wrote for the film, will be the pop factor on the the soundtrack to The Hobbit: The Desolation of Smaug.
The movie's main score is by Howard Shore, who wrote the music for The Lord of the Rings trilogy. The Smaug score was recorded by the New Zealand Symphony Orchestra in Wellington.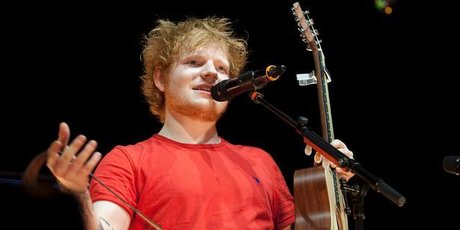 Sheeran visited Sir Peter Jackson's production base twice in Wellington this year as he worked on the tune which is likely to play over the closing credits or near the end of the film.
"It was such an honour working with Peter Jackson on this song," Sheeran said in a statement. "Not only is he one of my favorite directors of my favorite films, The Hobbit was the first book I ever read as a child, so it means a lot that I get to produce music for the motion picture."
Sheeran said he was allowed plenty of leeway by Jackson and co-writers Fran Walsh and Philippa Boyens.
"I was allowed complete freedom to create what I thought was fitting for the film, which is very rare, and Peter, Fran and Philippa were always on hand to give notes and pointers. ... I'm still geeking out that I've done a song for a Peter Jackson film set in Middle-earth!"
Said Jackson: "Ed Sheeran is a true Tolkien fan, and also happens to be a brilliant singer-songwriter. I See Fire is Ed's emotional response to the film. It's perfect."
The soundtrack details announcement came with a tracklisting to the album which will be released internationally on December 6, a week ahead of the film's opening date.
The full track-listing is:
Disc one
1. The Quest for Erebor
2. Wilderland
3. A Necromancer (Bonus Track) *
4. The House of Beorn **
5. Mirkwood **
6. Flies and Spiders **
7. The Woodland Realm **
8. Feast of Starlight
9. Barrels Out of Bond
10. The Forest River **
11. Bard, a Man of Lake-town **
12. The High Fells **
13. The Nature of Evil
14. Protector of the Common Folk
Disc two
1. Thrice Welcome
2. Girion, Lord of Dale **
3. Durin's Folk **
4. In the Shadow of the Mountain
5. A Spell of Concealment **
6. On the Doorstep
7. The Courage of Hobbits
8. Inside Information
9. Kingsfoil
10. A Liar and a Thief
11. The Hunters **
12.Smaug **
13. My Armour Is Iron
14. I See Fire performed by Ed Sheeran
15. Beyond the Forest
* Bonus track available on special edition soundtrack only
** Extended versions of these songs available on special edition soundtrack only