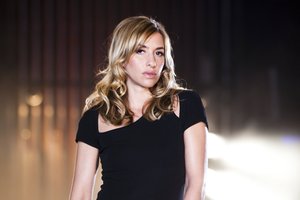 The red carpet was out last night at the glittering X Factor VIP party at the SkyCity Grand Hotel. Dress to impress was the theme and salubrious guests didn't disappoint, with MediaWorks celebrities and TV3 advertising clients donning their best gladrags and quaffing Mumm champagne.
Hilary Barry (a not-so-secret fan of the show) rubbed shoulders with Sam Hayes, Ben Boyce, Colin Mathura-Jeffree and the cast from The Almighty Johnsons.
Stars from the company's radio division were present too, including resident shock jocks Jono Pryor and Dom Harvey, whose Twitter behaviour this week (see story below) put him in hot water with the bosses.
MediaWorks TV chief executive Paul Maher made a glowing speech about X Factor and its fiscal friendships, without whom the show would not have made it to air.
Integrated advertising, or sponsorship as they prefer, is all part of the show's premise and SkyCity - which has turned the Sky Tower red in honour of the show - is a valued commercial partner, despite filming no longer taking place at SkyCity Theatre.
The X Factor live shows will be run out of Auckland Film Studios in West Auckland, starting on Sunday.
But the party was all about introducing the four judges and the competition's 12 finalists.
Mel Blatt, looking glamorous, told The Diary last night she was eager to show off her three groups up close and personal. "I can't wait for everyone to meet my acts tonight in their unedited glory."
She means away from the ubiquitous TV cameras which were on hand last night filming the party for Sunday's show.
X Factor host Dominic Bowden played MC and embarked on a Q+A session with each judge and their three acts. Dean Campbell from George FM hit the turntables, and later, pop star Zowie got the party kicking, belting out her own tunes.
Radio jock branded
He was vilified for a sexist slur about female rappers, now radio DJ Dominic Harvey has come under fire for a Twitter comment about an X Factor contestant. It prompted Rose Matafeo, a TVNZ presenter, to brand the shock jock "a misogynist".
When X Factorcontestant Grace Ikenasio failed to make it through to the next round of the competition on Monday night, Harvey, host of The Edge's Morning Madhouse, took to Twitter, comparing her: "Poor Gracie! First molested in her own bed by uncle bully. And now kicked out of #xfactornz".
He faced a hail of criticism on social media, including from a victim of child rape, who said his tweet was "offensive and disgusting". Another wrote: "Rape jokes will never be funny. Ever."
Initially Harvey defended his tweet: "I suspect Grace knows she is not that person who played the role of Grace in a fictional film [Once Were Warriors]". But yesterday he deleted it and apologised.
Matafeo, a young stand-up comic and co-host of TVNZ's youth music show U, took umbrage with Harvey, who works for rival MediaWorks. "The way you speak about women offends me ... Misogyny isn't acceptable and child molestation isn't a joke," she wrote on Twitter.
Matafeo told The Diary she stands by what she said. Harvey wasn't prepared to engage in a she said/he said argument.
"I retracted the tweet and apologised, and have nothing more to say," he told The Diary. "I don't even know Rose. All I know is she is on Channel U, but whenever I have tuned in to watch there's a screensaver on.
"But she goes out with Guy Williams and I love him. So I don't really want to get into some sort of beef with his girl."
Conchord plays second fiddle
Jemaine Clement is used to attention, but he was happy to play second fiddle to his wife on Saturday night. Miranda Manasiadis took to the stage at Wellington's Circa Theatre to play Russian mistress Olga Ivinskaya in Dean Parker's Midnight in Moscow. Clement played a best supporting role, applauding his wife's acting from the stands, and later posing with the production's sponsor.
TVNZ role supported
A loud cheer erupted in the TVNZ newsroom on Monday afternoon when one of their own was appointed news director. Finally, a Kiwi boss overseeing the biggest local television news department.
John Gillespie, TVNZ's editor of daily programmes, was promoted to the role of head of news and current affairs, and even though the decision was expected, it was enough for reporters at One News to let out an audible sigh of relief and applaud.
"Everyone is very relieved," said one on condition of anonymity.
"This place needs some stability right now."
"We've had enough of Aussies coming through and treating this place like a point-score on their CV," said another.
Ross Dagan's whirlwind turn in the role lasted just nine months.
His predecessor Anthony Flannery boomeranged back to Oz and now oversees Channel Ten's news division.
Party flops
Guests shunning a party invitation are any host's nightmare.
So spare a thought for SkyCity who hosted an exclusive shindig for Fairfax management and finalists ahead of the Canon Media Awards on Friday night.
Only, very few turned up. Insiders are quietly touting it, "the Fairfax flop".
Gordon Jon Thompson, SkyCity's communications boss, laid on the drinks exclusively for Fairfax, where his brother, Paul Thompson, is the company's group executive editor.
But he was quick to quash any whiff of nepotism.
"I'm an ex-Fairfax journalist myself," GJ told The Diary.
"SkyCity is a major corporate and we like to engage with journalists."
However, more than one Fairfax journo found the cosy corporate "engagement" too close for editorial comfort, choosing instead to snub the pre-awards bash. GJ wasn't fazed.
"Well, they can choose to ... There were 10 or 12 people there. The drinks were a success."