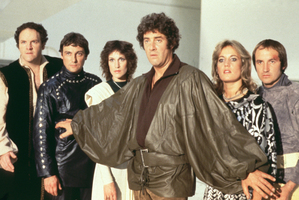 Hastings-born director Martin Campbell (Casino Royale, GoldenEye) will helm the remake of British sci-fi television show Blake's 7, it was announced this week at the MIPTV conference in France.
Campbell, 69, will direct the US remake of the BBC classic children's TV show for production giant FremantleMedia - the company behind the Idol and X Factor franchises - and US cable network Syfy. The series, set in 2136, will screen over 13 one-hour episodes.
Campbell, like compatriot Jane Campion, has turned his attention to the small screen. With global movie audience numbers dropping and film projects stalling, TV as an art form is becoming a safer bet.
Campion's Top of the Lake TV mini-series (for the BBC and Sundance Channel) has earned critical reviews and a new viewing audience. While her work in film will be honoured on May 16 at the Cannes Film Festival with the coveted director's prize (the Carosse d'Or), television as a medium may be Campion's future.
Filmmaker Taika Waititi, of Boy fame, has also made the transition behind the camera. Like Fellini and Scorsese before him, he's turned his attention to advertising, making more than half a dozen television commercials for the likes of Steinlager, Cadbury, Pot Noodle, and a Sour Patch kids rap video with Method Man.
Waititi's recent spot for British supermarket giant Tesco (for London agency Wieden + Kennedy) features a strapping Thor-type Viking and a fantasising stay-at-home mum. Think a Mills & Boon grocery shop.
Director Niki Caro, meanwhile, is reportedly writing and directing a biopic about opera legend Maria Callas, and Roger Donaldson is linked to a film project with Pierce Brosnan and his Irish DreamTime production company about a former CIA operative.
However, Donaldson's movie Cities, described by IMDB as "in pre-production", may not see the light of day. Producer Matthew Metcalfe at General Film Corporation told The Diary the "project is sitting in development and is not active". Hollywood stars Orlando Bloom and Kirsten Dunst have been linked to the film, but Metcalfe - who is producing the Ed Hillary biopic Beyond the Edge - said it's all just theoretical at the moment.
Marathon Man
Speaker of the House David Carter left the garland of albatross feathers at home to don shorts in Paris this week. Sacre bleu! The 61-year-old took part in the city's marathon, beating home more than half of the 38,690 runners with a time of 3 hours, 59 minutes and 35 seconds. He said on Twitter that he was "exhausted but very pleased to have completed" the race.
Cultural markers
This week in cultural news, John Key called war on Knuckleheads but not on North Korea, Pita Sharples attacked Te Ururoa Flavell and the Maori Party's ruling body, and a little heard-of Danish MP lobbed caustic missiles on grass skirts and powhiri.
Ou est Dame Susan? The controversially appointed Race Relations Commissioner, who's lying low in Tauranga, stayed noticeably schtum on the cross-cultural diplomatic incident. Apparently it's out of her jurisdiction.
However, the woman who put her in the role was embracing another sort of cultural marker: the celebrity photo on social media.
Cabinet Minister Judith Collins, who has embraced Twitter like a giddy teen, posted piccies of herself ringside at the Breakers match on Sunday with Mayor Len Brown and fashion doyenne Trelise Cooper. Sartorial hecklers (read Labour luvvies) reckoned Barbie called and wanted her outfit back.
But Crusher just chortled. "It's true that I have been referred to as a 'cyber-babe'. LOL," she joked to The Diary.
"I love my work so much that I want to share it."
Check out some stars selfies here
Other cyber-babes sharing "candid" shots this week include Rachel Hunter preparing for bedtime, Denise L'Estrange-Corbet in a clinch with Coronation Street star Bill Roache, Valerie Adams taking on Eric Murray and Jay-Jay Feeney taking to boxer Francois Botha.
British import Melanie Blatt, a judge on X Factor NZ, regularly uses Instagram to illustrate the TV3 gig and hers is perhaps less a work trip, more an ego trip.
She posts pics of herself confidently going about her daily life. This week, she was at a photoshoot wearing designer garb and chutzpah.
As a cultural anthropologist in the vein of Kim K, Ms Blatt's celebrity self-portraits offer a narcissistic glimpse behind the scenes.
But self-promoting pics aren't just the domain of the ladies. All Black Jerome Kaino and Neemia Tialata shared their bromance with us - and an elevator mirror. Rhys Darby gave us the thumbs-up, and Winston "50 Shades of Grey" Peters shared his luscious locks and puppet likeness.
As far as cultural profiles go, the celebrity social media shot has become the communication tool du jour. The message is clear: celebrities are fun-loving, accessible and just like us - as long as there is a camera-phone at arm's length.