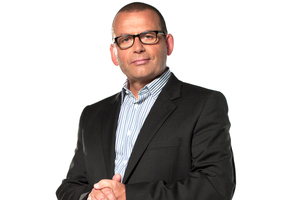 The boss of Paul Henry's Sydney-based Breakfast show says the network is not dumping it.
"I can tell you - categorically -Breakfast is not being scrapped," Anthony Flannery, Channel Ten's head of news, told The Diary.
All staff on the early-morning show were called to a crisis meeting at the network's Pyrmont headquarters yesterday morning to discuss the show's performance.
Flannery wouldn't comment further on the outcome of the meeting. "As I said, the show is not being axed."
It is understood significant changes will be made to the programme.
TVNZ's One News website says the show will be cut by half an hour, running from 6am to 8.30am from August 6, and will be presented by Henry, Kathryn Robinson and weathergirl Magdalena Roze.
Since starting in February, Breakfast has undergone a series of transformations in a desperate effort to attract viewers.
News presenter Ron Wilson was added to the cramped line-up, which included Henry, Robinson, Andrew Rochford and Roze.
Rochford walked out last month and executive producer Majella Wiemers resigned. She was replaced by Henry's friend and former TVNZ colleague Sarah Bristow.
The future of beleaguered Breakfast looks safe - for now. But the negative press will do nothing to help the show's slim ratings, which have reportedly dropped from 51,000 to 28,000 viewers. The two competing morning telly shows have more than 10 times that audience.
It was hoped Henry would front Channel Ten show Can of Worms, replacing Ian Dickson, as an attempt to introduce him to a prime time audience and lure them back to Breakfast. But in the end the role went to Chrissie Swan.
Paul Henry didn't return calls, but he told RadioLive - with whom he is retained as a part-time Aussie correspondent - his show will face changes. He was philosophical in an interview in last week's NZ Woman's Weekly magazine.
"I was employed because they think I can do it and I'm doing my best. At the end of the day, if it all turns to dust it's just been one more fascinating square in the rich tapestry."
SHORTY ST STARS HIT HOLLYWOOD
Martin Henderson and Karl Urban aren't the only Shortland Street alumni making their mark in Hollywood. Fleur Saville (Libby Jeffries) has filmed a cameo in the upcoming telemovie Liz and Dick starring Lindsay Lohan and Grant Bowler of Outrageous Fortune, who plays Richard Burton.
Saville will star as Sally Hay, Burton's fourth and last wife. She said working alongside Bowler made it easier.
"It was so great being on an American set with another actor from the same part of the world," Saville told The Diary. "Grant looked eerily like Richard Burton and totally embodied him."
Meanwhile, Ari Boyland (Brodie Kemp) has landed a lead role in low-budget independent film Mesmerized and is shooting a web series called The Secret life of a Hollywood Casting Director for James Franco's production company.
Imogen Johnson, who represents Boyland and Saville, said their "perseverance and tenacity are starting to pay off".
A-LIST OUTINGS A REAL TONIC FOR MARTIN
Woman's Day claims to have exclusive pics of the romance, but Hollywood A-lister Demi Moore is "just good friends" with Kiwi actor Martin Henderson, sources told E! Online. "They met through a mutual acquaintance who arranged last week's quick jaunt to Connecticut. It's just platonic." Phew.
Leveraging relationships can be a quid pro quo. Henderson's link to Moore, however tenuous, will undoubtedly help his ailing acting career. Using the mattress as a springboard for fame and fortune is credited as good commercial clout in Hollywood.
Dating up can ensure a meteoric rise in career. Robyn Malcolm's romance with famed Scottish actor Peter Mullan raised eyebrows and a level of respect. How will Henderson benefit from his Hollywood liaison?
GLITTERING PRIZES FOR BEST BOOKS
Tomorrow night's swanky gala dinner at the Auckland Museum for the New Zealand Post Book Awards is expected to bring out the glitterati literati. Marcus Lush, Kathryn Ryan, Theresa Gattung, Dame Fiona Kidman, Dame Anne Salmond, Pamela Stirling and Claudia Orange will be among the guests.
Jennifer Ward-Lealand will play MC and Chris Finlayson, Minister for Arts, Culture and Heritage, will present the awards with Sir Michael Cullen, chairman of New Zealand Post Group. Evidently literature can bring together both sides of the political divide.