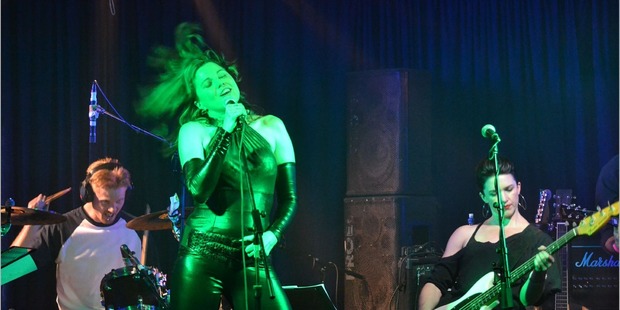 At the end of the night Lucy Lawless takes the weight off her feet in Fort St after an evening belting out songs to an appreciative audience at the King's Arms.
Lucy Lawless took to the stage at the King's Arms on Sunday night with celebrity pals Anika Moa and Julia Deans, but it was the choice of late-night dining establishments which gave the evening a particularly Kiwi flavour.
Lawless, clad in head-to-toe black leather, flicked her locks and belted out songs, including a cover of Lana Del Rey's Blue Jeans, to a packed venue.
"Lucy was on fire! Her voice was strong and she was seriously sexy in her leather outfit," said a fan.
However, not too sexy for Fort St, it seems. The leather number seemed appropriate garb for a late-night burger run to the White Lady, an Auckland fast-food institution.
"Like on many good nights out, we end up at the White Lady on Fort St," the Xena star tweeted.
Sitting on a plastic crate outside a realtor's office waiting for her greasy order, Lawless posed, oozing a rock'n'roll image, her multi-millionaire Hollywood lifestyle a distant memory. So too, her greenie guise. What would Greenpeace make of the fast-food carbon footprint?
DIVA DAMES GATHER FOR THE QUEEN
At a reception to mark the Diamond Jubilee in London's Royal Academy last week, Dame Kiri Te Kanawa, 68, rubbed shoulder pads with a gaggle of grand dames honoured for their work in the arts. Wearing tangerine silk and a broad smile, the diva posed in an official photograph with 23 other dames of the Empire, including Diana Rigg, Judi Dench, Joan Bakewell and Shirley Bassey, who said the photo made her feel "like part of the family".
AIR NZ JOINS WITH ZUCKERBERG
Outgoing Air NZ chief executive and fan of body paint Rob Fyfe says the local airline ranks sixth in the world for social media presence.
It is hosting a social media breakfast at the Viaduct Events Centre on July 4 with guest speaker Randi Zuckerberg, lesser-known sibling of Mark.
Zuckerberg, 30, is the founder of R to Z Studios and co-producer of reality show Silicon Valley on Bravo.
Comedian, culinary blogger and twitter enthusiast Jesse Mulligan will MC the brekkie (tickets are $75) and American marketer Jessica Gilmartin will also make a guest appearance. She works for Kiwi Victoria Ransom, whose Silicon Valley social media marketing company, Wildfire, creates software that monetises social media platforms. Pity Ransom won't be attending. She told the Huffington Post last week "women in business are often hungrier to prove themselves and more driven to succeed than their male counterparts".
MALLARD QUACKING; JONES AFTER A JOB?
Social media was the platform Labour MP Trevor Mallard chose yesterday to expose the woman who served him defamation proceedings on behalf of ACC Minister Judith Collins, posting a picture of her on Twitter (above).
He wasn't miffed - much. "I said thank you. Wasn't offered fries," he tweeted laconically.
He said the process server gave a "false name and address" when making an appointment at his office to serve the papers. Andrew Little was served last week in the dark outside his Wellington house.
Meanwhile, fellow Labour MP Shane Jones is facing an uncertain political future after his boss, David Shearer, stood him down and called for an inquiry by the Auditor-General.
A well-informed insider says Jones wants out of politics completely and is looking for a job. Jones didn't respond to the rumour, ignoring The Diary's calls. Perhaps if we'd been posing as an HR headhunter we may have had more luck getting hold of him.
COUTTS' CATAMARAN HAS KIWI WINGS
While his team celebrated the 75th opening of the Golden Gate Bridge with a sail past, Sir Russell Coutts left San Francisco on Sunday, bound for New Zealand.
The chief executive of Oracle Team USA, who was yacht racing with Fiat heir and Italian socialite Lapo Elkann in Venice last week, will no doubt be casting his eye over catamaran parts being built in Warkworth.
A carbon-fibre wing, the height of a 12-storey building, has been completed at Core Builders Construction. It will be trucked from Warkworth to Auckland and then shipped to San Francisco to be fitted on to the hull of Oracle Team USA's AC72 catamaran.
America's Cup rules require boat hulls to be built in a team's home country but other large structures can be constructed elsewhere.
NEIL FINN'S BIRTHDAY WISH
Neil Finn blew out 53 candles on Saturday and told Twitter fans he would honour his birthday by "playing some music, having a drink, wearing my new clothes out for dinner". Asked if he had any misgivings, the musician said his biggest regret was, "missing a few moments of my kids growing up".
LYNN OF TAWA DONS A TUTU
Ginette McDonald will MC an auction at a glittering fundraising gala dinner at the Intercontinental Hotel in Wellington on Friday night in honour of British ballet star Darcey Bussell. The former prima ballerina is a guest of the New Zealand School of Dance and the Royal Academy of Dance.
EVA ADDS GLAMTO CAT FOOD AD
She was the face of L'Oreal and has been voted the sexiest woman in the world. Now Eva Longoria is selling cat food to New Zealanders - but admits she's a little green on the subject.
The star of Desperate Housewives, Longoria, 37, is this week appearing in adverts for Dine, aimed at those who like to follow "passions".
Longoria told Herald reporter Amelia Wade that she doesn't own any cats - she travels too much.
"The other day I did almost adopt some kittens, I was like, 'Oh my God, I want to take these home' but I was in Paris so I couldn't," she said.
The final Desperate Housewivesis yet to air in New Zealand.
Last month, Longoria hung up character Gabrielle Solis' strappy stilettos for the last time.
"It was crazy - it was bittersweet. The end was really sad because it was eight years of my life, they were my family, the cast and the crew ... it was sad, but at the same time I was so excited to turn the page and see what was next in my life and in my career."
So it's goodbye Wisteria Lane, hello cat food. "Some of the most passionate people in the world are cat lovers because they're pretty loving and caring towards their cats so that really fit into who I was," she said.