Landscape gardener and Life columnist Justin answers your questions.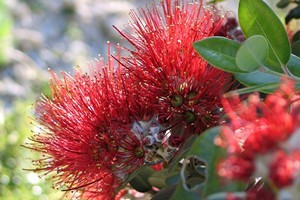 Could I layer a no-dig garden over my existing vege garden, with cardboard, etc?
- Tina
Yes, yes, yes. That's the whole point. You're building the soils in your garden continuously. Over a year or so you'll notice a huge difference, including improved water retention, improved soil tilth and improved soil life. Ultimately you'll notice a big improvement in crop quality and yield.
The pohutukawa is easy to topiary as the juvenile tree has an erect, straight trunk. I am just about to purchase three pohutukawa topiary plants but did not realise that they had to have the root ball clipped every year. Could I plant the pot in the ground to retard the growth ? Or do you have any other suggestions?
- Cameron
The pohutukawa has an incredibly vigorous root system which can thrive in a restricted environment like a pot. Trimming the roots or re-potting is prerequisite to good pot plant health, no matter what tree you choose. Firstly, the new soils you install will hugely improve the conditions for new canopy growth.
Secondly, most root systems are so fast growing; removing the tree from the pot can quickly become difficult. Don't be put off because it's a hassle, it's actually pretty simple and because the pohutukawa is such a stayer your margin of error is substantial.
I am looking for recommendations on suitable climbers (flowering if possible) that I could grow up the wall and along the soffitt of my apartment balcony. The climber would need to be a shade lover as the wall in question doesn't get a lot of direct sunlight.
- Yvette Jay
A single vine is quite one-dimensional - have you considered a green wall? This is a compact way to get lots of texture and interest onto your balcony. You can install lots of different plants including edibles and herbs, or you could go for ferns and natives mixed with orchids and other flowers. As far as a vine goes, in semi-shade star jasmine (trachelospermum jasminoides) is a dependable option - it's reasonably compact with a strong scent. But keep an eye on my columns, we'll cover green-walls later in the year.
Weekend checklist
* Have a go at some late peas and keep sowing basil and coriander. If wee get a long autumn, expect a good result.
* Clean out the last of the summer crops, chop up and add to your compost.
* Plant fast-growing crops like mesclun and radish, as well as some stayers like silverbeet and New Zealand spinach to tide you over until your winter veg comes on.
* Get those brassicas in. It's getting urgent, urgent, urgent.
* Prune trees after fruiting taking care to angle the cuts so moisture runs out of the wound.
* Mulch your citrus with organic material including seaweed. If there is yellowing of the leaves, water in some Epsom salts (available at Kings).
* Prune your roses, dress the beds with sheep pallets and mulch. It's getting time to put them to bed for winter so enjoy any decent flowers you have while you can.
* Deadhead landscape flowers such as dieties and day lily, also remove spent foliage.
* Split flaxes. Cut any damaged foliage, split off young plants and discard any plants that have flowered then plant the younger plants in fresh soil or plant mix and mulch.
* Clean up and compost any tree leaves and other material which can carry disease through winter.
* Plant bulbs. Kings have the latest range and the expert advice to get your bulbs growing and keep them going.
* Trim your hedges but take care not to go too hard as we aren't going to get much growth between now and the spring time.
* Mow your lawn and turn the clippings into your compost.
* To ask Justin a question, click on the email link below.