Landscape gardener and Life columnist Justin answers your question.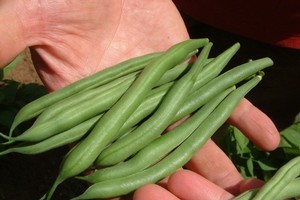 My peas and beans this year were pathetic. I have been growing them in the same spot for three years now, but do add compost each year before I plant. I like to have something edible growing up a wall of the garden as it hides a messy yard, but passionfruit was too greedy so I took it out. What else could I rotate with beans to keep them happy?
- Susan
Work with your soil and it will work for you. Work in spite of your soil and ... well, the results speak for themselves. Plant leafy greens where your peas are and plant your peas and beans where your onions, garlic or root crops have been. Remember to dress the bed with potash from the fire (untreated wood ash only). Get into some crop rotation and make the most of the soil conditions your plants provide.
Could you please tell me what the tiny butterfly type insect is that is dominant on our citrus trees, and how to get rid of it? They seem to have small stripes on their wings.
- Marilyn Weller
I've just had a quick look at my citrus and I think the insect you mean is a leaf hopper.
It operates in a similar way as the aphid and white fly. Hoppers are sap suckers which spread pests and diseases so I recommend spraying your citrus with a tablespoon of olive oil mixed with a teaspoon of garden-friendly soap and three to five litres of water (you can add more soap or oil as you wish).
This will stop the hoppers from flapping about and will also trap hatchlings as they emerge, breaking the hopper life cycle.
The soap and oil will also remove the black soot from the leaves which is a result of the hopper handywork. Make sure not to spray in the heat of the day.
Can you grow roses with a vegetable garden or do they deplete each other's nutrients and/or attract the wrong bugs? I'd like to have climbers as I don't have much space.
- Peter
You can plant roses with vegetables, or in orchards and vineyards for that matter. My only reservations are around spraying your roses. If you have a relatively heavy spray programme for your existing roses, then you may not want those sprays on your vegetables.
As far as nutrients go, you will find they are quite compatible and will certainly add some wonderful interest when things get a bit grim on the vegetable front. Great idea!
Weekend checklist
* As summer plants are removed from the garden, prep your winter beds with gypsum, seaweed, potash, compost, blood and bone or green crop and mulch. It's important not to leave the soil exposed.
* Start seeding broccoli, Brussels sprouts, cabbage, cauliflower, silverbeet and spring onions.
* It's getting a bit late if you want big celery for winter soups but you can grow smaller plants and use them like a herb or you can get some bigger seedlings from Kings. Leeks are also a bit late so just plant more of them and harvest them small. They're still really yummy.
* Plant lettuce, late beans and peas, and if the season is long you may still be able to get another crop of basil happening.
* Plant carrots, parsnips and beets.
* Save seeds for next year. Always get them from your biggest produce.
* Feed fruit trees and prune any that have finished fruiting. Citrus could do with a drink of magnesium sulphate (Epsom salts). Make sure you do this after it has rained or you have watered, and follow the instructions.
* Plant rhubarb for winter desserts.
* Keep harvesting and tidying fruits and vegetables. Mould can be an issue at this time but remember that end-of-the-season plant deterioration is natural. Be pragmatic and turn a blind eye to sad-looking plants that are still producing.
* It may sound a bit early but start planning for bulbs. Check out Kings' extensive range of bulbs including old favourites like: anemones, ranunculus, freesias, hyacinths, daffodils, iris, tulips, crocus and gladiolus nana.