Herbs are a marvellous addition to your plot or a great way to garden on a small scale, writes Justin Newcombe.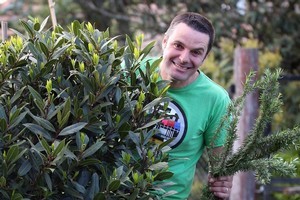 The word "herb" immediately splashes the idea of cooking across my mind, but herbs have a history stretching right back into the ancient world and include many more uses than the culinary arts. Medicine, perfume, decoration, dyes, beauty products, teas and intoxicants are all part of the plantscape covered by herbs.
A lot of herbs sit between weeds and desirables, often living in poor or barren soils, escaping into the wild, seeding themselves into lawns or across hill sides and can prove tough to eradicate. Conversely, it's this tenacious quality that means many herbs are quite often the last plants standing, as your garden ebbs low and you wait for your new plants to come on (especially true in early spring).
If you do decide to garden on a smaller scale then I suggest herbs as a focus for you. Herbs add fresh, seasonal flavours to your cooking and salads, perfume to your garden, will do well in deprived soil conditions or new gardens and are perfect for containers and pots. They even bear up well to a little neglect.
As my gardening has developed I have actually abandoned the idea of a herb garden but have recently rediscovered herbs in pots. It's fun being able to duck outside and pick some dill, sage, thyme or oregano as well as basil or rocket, even if it's just to tart up my lunch. One of my favourites of the past few years has been French tarragon. This is a wonderful herb with chicken or fish. I brought two home, planted one in the ground and didn't know what to do with the other so left it in the pot. The foliage died back on both plants over winter. As it turned out the potted tarragon reappeared in the spring. The ground specimen, unfortunately, found winter too wet and died. The potted tarragon has been excellent and has now graduated to a bigger container. I'll pot it on again next winter when it's dormant and at the same time split the crown to create more plants.
Rosemary is a terrific herb as we all know.
It makes a tight hedge, has a lovely taste and a fresh scent while the dried cuttings burn fiercely on a wood fired barbecue or oven.
There are also flowering herbs including lavender and calendula. Both of these have culinary properties but are more useful for soaps and balms as well as attracting beneficial insects to the garden.
I always grow heaps of basil and pack it in under my tomato plants. I have found over the years that shade is important for both basil and coriander as they bolt (go to seed prematurely) in full sun while basil in particular needs a little more watering than most other herbs.
A herb garden needn't be a big deal to enjoy, and is an ideal way to get your fingers dirty if you're short of space and time.
A few herbs in some pots is still gardening, as far as I'm concerned, and if they're your herbs, then you're a gardener.
3 of the best: Companion plants
Phacelia
Phacelia attracts a large number of beneficial insects, including lacewings which eat aphids. It has a lovely purple flower to boot.
Comfrey
A hugely beneficial plant for every garden, comfrey is well known as a great source of potassium and other micro-nutrients. It's also a wonderful compost starter.
Marigolds
The old gardening adage, "marigolds with everything", still holds true and with their famous orange teddy bear blooms, you won't get a more jolly companion in your garden this summer.