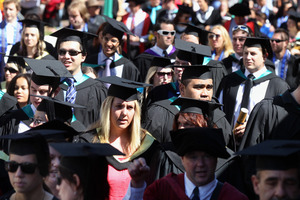 New graduates with dreams of earning big bucks when they finally enter the workforce need to be realistic about their starting wage and to be clever about what topics they choose to study, recruitment experts say.
A new report from the Ministry of Education, Looking at the Employment Outcomes of Tertiary Education, details how much, on average, graduates will earn in their first years in a job.
The report found those emerging with medical or engineering qualifications earn far more than literature or performing arts graduates.
The top earners are graduates in medicine, earning just over $109,000 after working for five years. A performing arts graduate would take home on average nearly $34,000 after five years of working.
Adecco recruitment company managing director Mike Davies said some new graduates have an unrealistic idea of their starting wage.
"Many seem to have expectations of maybe more than what businesses are able to offer initially.
A qualification doesn't give you the right to a company car and an overseas trip every year."
Graduates also need to be smart in choosing an area of study and try to anticipate what the market will look like in a few years' time.
"People go to university for the sake of going to university and get a degree, and haven't thought long and hard about what the market requirements are. You end up with something that may be of no real use."
School leavers who begin as a trade apprentice can earn a much higher wage than graduates because of the demand for plumbers, electricians and builders, he said.
Kinetic Recruitment manger Joe Henderson said there was a broad trend for employers to be more specific in the type of skills a potential employee had to offer.
"You'll find that if a graduate has the right type of degree and qualification that the client wants, then they'll be in demand over others."
According to the report, having any qualification is better than nothing, with young people's wages increasing with their level of tertiary qualification and a significant jump in earnings between non-degree and degree qualifications.
Five years after finishing study, the median earnings of those with a bachelors degree was 48 per cent above the national median earnings for those aged over 15.
Challenges rated ahead of money
Wiremu MacFater is one of those who will quickly earn a high wage after a few years of working.
He's in his final year at the Auckland Medical School and has a job lined up next year at Wanganui Hospital.
But his career choice had nothing to do with the pay packet.
"For me it was a lot of family stuff, like you'd see family in hospital and you'd hear about all the health inequalities with Maori - so that was a motivator and I thought it would suit my personality, so I gave it a go."
He sees his future in Maori health and sports medicine.
"I won't make the most money from that, but at the end of the day, as long as I've got enough money to pay my bills and do the things I enjoy, then I'm not too fussed."
Chelsea Heywood majored in anthropology and linguistics and hopes to start her working life at the Internal Affairs department or in an overseas embassy.
She expected to start work earning about $48,000.
"I definitely chose my degree based on interest. I wasn't too concerned with the material side.
"I've always wanted a job that challenged me and that I was interested in. To me that's getting a job I'm interested in rather than one that earns a lot of money."
- APNZ