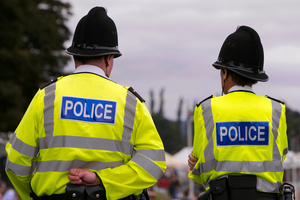 UK police are questioning seven men arrested on suspicion of terrorism after they found guns and other weapons hidden in a car impounded for having no insurance.
One man from West Yorkshire and six from the West Midlands are being held on suspicion of the commission, preparation or instigation of acts of terrorism.
West Midlands officers impounded the uninsured car and found two guns, ammunition and other weapons inside.
"The arrests followed a routine stop of a vehicle by police on the M1 motorway in South Yorkshire last Saturday," a police spokesman said. "The car was impounded on suspicion of having no insurance.
"Firearms, offensive weapons and other material were later found hidden inside, prompting police to arrest the driver, passenger and others suspected of being involved."
This follows a separate counter-terror swoop in London on Thursday, which resulted in six arrests in Stratford, East London, and Ealing, West London.
A former police community support officer and Muslim convert Richard Dart, 29, were said to have been among those detained.
The arrests were made as part of a pre-planned operation, but the threat was not thought to be imminent.
West Midlands Police said that in the arrests linked to the impounded vehicle, three men aged 23, 26 and 27 from Sparkhill, Birmingham, were held on Tuesday morning.
Three more suspects, a 22-year-old from Alum Rock, Birmingham, a 24-year-old from the Moseley area of the city, and a 22-year-old from Smethwick, West Midlands, were arrested on Wednesday evening.
A 43-year old man from Kirklees, West Yorkshire, was detained in Ravensthorpe, Dewsbury on Thursday.
Detective Chief Superintendent Kenny Bell, head of the West Midlands Counter Terrorism Unit, said that when the items were discovered in the impounded vehicle, "our priority was to protect the public by pursuing and arresting those we believed to be involved".
Police said the contents of the car were undergoing forensic analysis and the suspects' homes had been searched.
Detectives were given until Tuesday to question the three men arrested on Tuesday, after the initial 48-hour detention period ran out. They will then have to charge or release the men, or apply for a further warrant. All seven are being held in the West Midlands.
- AAP