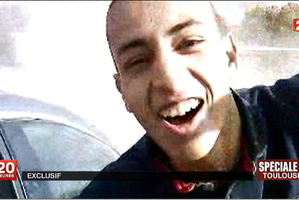 The head of the French internal security service has denied suggestions that authorities "missed" the Toulouse gunman because he was a police informer.
Bernard Squarcini took the unusual step of intervening personally to quash speculation that Mohammed Merah was a "snout" for one of his own agents in Toulouse.
Paradoxically, however, the allegations, including stories in the Italian and French regional press, began with a remark by Squarcini himself. The speculation has since been amplified following comments by a retired head of one of the two French security services merged under Squarcini's control four years ago.
Last Saturday, the day after Merah, 23, was shot while resisting arrest, Squarcini told Le Monde that the killer had asked, during his 32-hour siege, to speak to a Toulouse-based officer in his agency, the Direction Centrale du Renseignement Intérieur (DCRI).
It was this agent who interrogated Merah when he returned from a two-month visit to Pakistan in November.
The DCRI chief told Le Monde that Merah shocked the agent by saying: "Actually, I was meaning [before the siege] to call to say I had some tip-offs for you. But, actually, I was going to bump you off." In French, he used the word fumer, which means "to smoke" but in slang translates to "murder" or "waste".
In other words, Merah appeared to have a friendly relationship with the agent and intended to lure her into an ambush by pretending to have information about radical Islamist activities in Toulouse. French newspapers have pointed out that even low-level "informant" status for Merah could explain why he passed under the radar of the police and security services.
In an interview this week with the Toulouse paper La Dépche du Midi, a former security chief, Yves Bonnet, said it was "striking" that Merah seemed to have a DCRI "handler". "Having a handler, that is not an innocent thing. I don't know how far his relationship, or collaboration, with the service went but it is a question worth raising."
Merah's lawyer said he had separated from his wife days before the attacks and was suffering "psychological difficulties". Christian Etelin sought to portray Merah as a "lone wolf" with no organised crime or terrorist connections and as "an abandoned child" angry at a long-absent father.
- Independent, AP