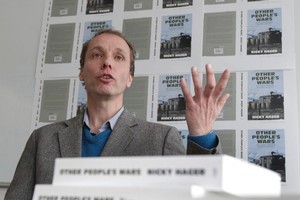 New Zealand spies were cogs in the American "war on terror" machine, intercepting radio and cellphone calls and mapping targets for bombers and infantry, according to Nicky Hager's new book.
Other People's Wars contains details about New Zealand intelligence agents who were trained in the United States and sent to Afghanistan to monitor suspected insurgents.
Meanwhile, resources in New Zealand were dramatically boosted to increase spying and share intelligence with the US, Britain, Canada, and Australia - at the expense of focusing on issues of national interest.
A 2007 US Embassy cable suggested Helen Clark was aware of the focus; US diplomat David Keegan wrote that she was "willing to address targets of marginal benefit to New Zealand that could do her political harm if made public".
Hager's book names intelligence specialists Helen Murphy, Darby Allen and Steve Mahoney (pseudonym) as extra manpower for US intelligence.
Their information was passed to US army commanders who decided whether to "kill, capture or spy".
Hager has called it New Zealand's "bloodiest" contribution to the war, although he acknowledges it was up to the US to give any military operation the go-ahead.
He used information from Operation Dark Heart, a book by US intelligence officer Anthony Shaffer. The book was pulled before it hit the shelves because of pressure from the US Department of Defence.
Operation Dark Heart describes Captain Helen Murphy, whom Mr Shaffer met in 2003, as attractive, intelligent and "extraordinarily gifted in her intelligence work".
Her job was to identify Taliban targets. One evening, she picked up some "tactical-level chatter" near a village called Deh Chopan that resulted in a raid by B-1 bombers, killing around 40 and injuring many more.
Another operation based on her intelligence targeted the "al-Qaeda Hotel", in the Pakistani town of Wana, near the Afghan border.
Hager also used Facebook to spy on the movements of intelligence officers and he refers to flippant comments about killing "ragheads".
Prime Minister John Key has been reluctant to address the topic.
"I can't talk about our security intelligence relationship in Afghanistan. What I can say is that New Zealanders would expect that our forces have the best information they possibly have to protect themselves when they are in a dangerous and hostile environment."