Former Guantanamo inmate says 9/11 'disgusting' in his first interview.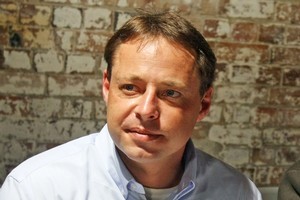 Former Australian Guantanamo Bay inmate and alleged Osama bin Laden fighter David Hicks has condemned the September 11 terror attacks on the United States as "disgusting".
In his first interview since his release from prison four years ago, Hicks also denied knowing bin Laden was a global terror mastermind and controlled the camp where he trained.
But in an hour-long special on ABC television's Australian Story last night, Hicks admitted watching motivational videos encouraging terrorism against the West before his capture by Afghan Northern Alliance troops in 2001.
He also repeated allegations of torture, supported in the programme by international torture authority Professor Darius Rejali.
And his claims that his detention at the American military prison in Cuba was illegal was backed by Colonel Morris 'Moe' Davis, the United States Chief Prosecutor who successfully prosecuted Hicks for the retrospective offence of providing material support for terrorism.
"We wouldn't agree to submit an American citizen to this process, so to try to argue with a straight face that ... this is real American justice, is a farce," he told the programme's reporter/producer, Helen Grasswill.
Adelaide-born Hicks, who converted to Islam in 1999, was sold to the US for US$1000 ($1780) by his Afghan captors and transferred to Guantanamo Bay as an enemy combatant.
Despite the release of other foreign inmates and a campaign for Hicks' release at home, John Howard's former conservative Government refused to intervene on his behalf.
He won his release in 2006 under a deal in which he pleaded guilty to providing material support for terrorism, and was returned to South Australia where he spent seven months in Adelaide's Yatala Prison.
Hicks has consistently maintained his innocence and has petitioned the United Nations Human Rights Committee in a bid to force an apology from the Australian Government for its support of an unlawful charge. He also wants his conviction overturned.
Hicks is at present fighting a bid to confiscate the earnings from his biography, Guantanamo: My Journey, which has been nominated for a Queensland Government literary prize.
During the interview, Hicks deplored the September 11 attacks: "I think it was a disgusting act. So many people lost their life on that day.
"It's hard to describe, when you're watching something like that, that it's even possible it could happen ... I mean, the devastation and the people jumping from the building and when they collapsed and, just, yeah ...
"It was horrible."
But while he watched videos promoting terrorism and wrote in letters to his family that he was in "bin Laden's Arab organisation", Hicks claimed he had not known that his training camp was controlled by Bin Laden.
He said he had seen Bin Laden, who visited the camp regularly, as a "kind figure" and saw nothing to suggest he was a terror mastermind.
"It can sound like [he knew he was being trained by Bin Laden], sure," Hicks said.
"To take it like that out of the context of what it's placed in ... Bin Laden did come numerous times as a guest speaker.
"And he seemed to have some clout because there were many guest speakers, and when he came things were conducted very differently in the camp."
Hicks said he had been physically abused when he was in US military custody in Afghanistan, and had endured physical and mental torture at Guantanamo Bay.
Torture authority Rejali told Grawill he thought Hicks was telling the truth.
"Once you have been subjected to torture you will never be normal, ever," he said.
"There will always be long-standing psychological and physical effects from torture."
But former Foreign Minister Alexander Downer denied the allegations.
"We asked the Americans to investigate and we sent our own consular officer there so he could see with his own eyes," he told Grawill.
"But we saw no evidence of him having been tortured.
"All people who've been associated with al-Qaeda, who get captured, always claim they have been tortured. They always do."
Downer also rejected Hicks' claim that his conviction was invalid.
"This guy was convicted in a court, duly established by the United States Congress, signed off by the President of the United States, and he was convicted," he said.
"On his own evidence ... [and] he confessed his guilt."