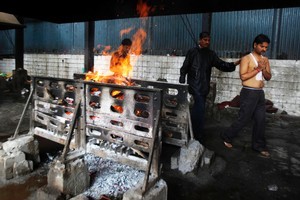 Mumbai police investigating the three bomb blasts that tore through the city on Thursday were last night pinning their hopes on CCTV footage recovered from the scene as they revealed that heavy rains may have destroyed much forensic evidence.
As the Indian Government sought to counter mounting public anger over the latest strike to hit the country's financial capital by insisting there had been no intelligence failure, anti-terrorism officers admitted they were no closer to identifying who was behind the attacks.
"All angles are being viewed," said Rukesh Maria, head of Maharashtra state's anti-terrorist squad. "All possibilities are being examined ... The investigation is a long, drawn-out process."
The Indian Mujahideen, a home-grown terror network, is said to be among groups being looked at, but police said they were continuing to probe all possibilities
They revealed that the explosive devices were made of ammonium nitrate.
One report said a body had been found with wires attached; police could not say whether a suicide bomber had been involved.
The authorities said the death toll stood at 18 and that more than 130 people had been injured, many seriously.
On a day when the monsoon rain barely paused, relatives of the injured and dead gathered at hospitals across the city, anxiously seeking any news of survivors or waiting to take bodies away for funerals.
"A total of 26 people were brought here. Four of them were dead, 10 were grievously wounded," said Dr Satish Synone, a senior physician at Gokuldas Tejpal hospital.
"They were suffering from burns, abrasions, foreign bodies. We had to perform surgery."
India's Home Minister, Palaniappan Chidambaram, claimed the attacks had been an assault upon the country's "unity, integrity and prosperity".
He admitted that the intelligence agencies had no prior information about the blasts and yet he insisted that this did not equate to an intelligence failure.
A city still unprepared
In the aftermath of the Mumbai attacks of November 2008, when 10 gunmen wrought havoc on the city, metal detectors were installed at the city's Chhatrapati Shivaji railway terminal where more than 50 people were killed.
But yesterday, as police said they were doing all they could to protect the city from further terror attacks, less than 25 per cent of the machines were even switched on. "That is broken," said one police officer, seated at a table, while his colleagues busied themselves with a newspaper crossword.
Even when some of the hundreds of commuters did walk through one of the machines that was switched on, officers did not even blink if the buzzer sounded.
Rukesh Maria, head of Maharashtra state's anti terrorist squad, has made an appeal for the public to have faith. But the latest attacks have again triggered debate about why the authorities appear under-equipped to prevent attacks on the city.
- INDEPENDENT