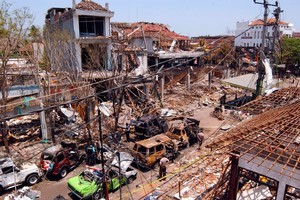 Australia has released a terrorists' shopping list in a bid to gain early warning of any attempt by a would-be bomber to assemble the chemicals needed for an attack.
The list of almost 100 chemicals, covering otherwise innocent components used in products ranging from fertilisers to agents to artificially age wood, follows their devastating use overseas and concerns about potential home-grown terrorism.
Similar lists have been published in the United States and Canada, and in the May Budget A$10 million ($12.3 million) was committed over four years to combat the risk posed by terrorists buying chemicals for explosives and toxic weapons.
"Common chemicals have been used as ingredients in powerful improvised explosive devices in different parts of the world," Attorney-General Robert McClelland said.
"Overseas attacks have resulted in many fatalities, injuries, and damage on a massive scale.
Similarly, toxic chemicals have been used in attacks by terrorists to cause injury and death."
Terrorists used agricultural fertilisers to manufacture the bombs that between them killed almost 40 people and injured more than 1000 during the 1990s in Northern Ireland, the first World Trade Centre attacks in New York and in Manchester in England. Bomb-makers also used chlorate mixtures in the 2002 Bali bombings and later in Jakarta, and made explosives from hydrogen chloride for the 2005 London terror attacks.
"Governments around the world are working to ensure that chemicals of concern don't get into the wrong hands," McClelland said.
"We need to ensure our practices and counter-terrorism strategies are modern and constantly updated to keep the community safe."
The list of potentially lethal chemicals was drawn up by intelligence and police agencies under the federal chemicals of security concern programme, which is designed to reduce the risk of terrorists acquiring chemicals and to "deter and detect" their use for terrorism.
"The publication of this list will help industry and the wider community to be vigilant about suspicious activities surrounding these chemicals," McClelland said.
Most are easily available in Australia.
A large number of industrial, agricultural and veterinary chemicals used daily for legitimate purposes were routinely sold across the country, but could also be used by terrorists to produce an improvised explosive device or toxic weapon, McClelland said.
He said counter-terrorism agencies and chemical industries had identified 96 chemicals that required priority risk assessment and federal and state Governments were working to minimise the risks of them falling into the wrong hands.
The list ranges from the insecticide aldicarb, the pesticide ingredient dimethyl phosphite and ammonium and potassium nitrate fertilisers to chlorine, sulphuric acid, hydrogen peroxide and nitric acid, used to etch metal and artificially age wood used in furniture.
Shops, industries and ordinary Australians have been asked to be on the alert for any suspicious behaviour involving chemicals, and to phone their concerns to the federal national security hotline.
Suspect behaviour includes large or unusual purchases or requests, sales settled with large cash payments, and customers who appear unfamiliar with a chemical's legitimate use, who have invalid or out-of-date identification, or who are unwilling to provide proper identification.
"The message for industry and the community is: if you notice suspicious activities surrounding these chemicals, report it to the national security hotline," McClelland said.
CHEMICALS IN ACTION
London 2005: Explosives in the attack on the London tube network and a double-decker bus used a mixture containing hydrogen peroxide, killing 52 and injuring hundreds.
Jakarta 2004: A vehicle bomb using a chlorate mixture explosive outside the Australian Embassy in Jakarta killed 12 Indonesians.
Bali 2002: The bomb that killed 202 people in Bali, including 88 Australians and three New Zealanders, contained a chlorate mixture explosive.
Omagh 1998: A Real IRA device made from a mixture containing agricultural fertiliser killed 29 and injured hundreds.
Manchester 1996: An Irish Republican Army bomb also made from fertiliser devastated parts of Manchester, but without any deaths.
Oklahoma City 1995: The truck bomb that killed 168 people and injured 450 consisted of ammonium nitrate and nitromethane, a motor-racing fuel.
Matsumoto, Tokyo 1994-1995: Two separate attacks by religious extremists of the Aum Shinrikyo cult using the chemical nerve agent sarin killed 19 and affected more than 5000 others.
New York 1993: The World Trade Centre bomb that killed six and injured more than 100 was made from a mixture that contained agricultural fertiliser.
THE LIST