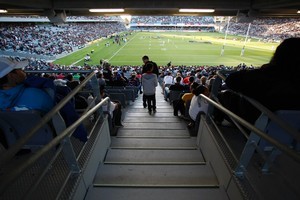 Army special forces are holding anti-terrorism exercises with armed police in Auckland to prepare for possible attacks during the Rugby World Cup.
Soldiers from the SAS and Counter Terrorism Tactical Assault Group will practise a range of scenarios, including a bombing and kidnapping.
Forces will be in action around Green Lane Hospital today before moving to Papakura, Ardmore and Mercer on Friday.
New Zealand Defence Force Major John Gordon refused to reveal details of the exercise. "As we get closer to the Rugby World Cup we will be doing more exercises. It pays to be prepared and to be safe."
He said troops had already carried out exercises on army land but needed to test their skills in the environments in which they were likely to be used.
"It could be a worst-case scenario of a terrorist group looking to take someone hostage."
Gordon would not reveal exactly where the exercise was taking place because of "sensitivities" around photos of special forces soldiers.