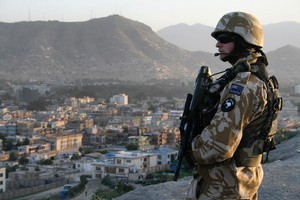 Since the death of Osama Bin Laden, most Americans want out of Afghanistan. Their politicians are still lagging behind public opinion. However, late this week the US Congress managed an extraordinary vote in the lower house.
A resolution requiring their President to provide an end-date to transfer military operations to the Afghans; negotiations to reach a political settlement with all the players (including the Taleban); and assess if al-Qaeda was now even a threat in Afghanistan failed by just 11 votes - 204-215.
A similar resolution in the last term had just 138 votes in support. This time 26 Republicans voted for it. It's just a matter of time before the Afghan misadventure falls apart.
So why are National and Labour insisting our soldiers stay part of this failed war machine? This war is over. Everyone knows it. Many Afghans see themselves as part of a nationalistic movement fighting to rid their country of foreign occupiers - and they are winning.
Any pretence that we are involved in a moral war against terrorism fell apart after Jon Stevenson's explosive article in Metro magazine. He did enough to convince me of our political and military leaders' complicity in handing over prisoners to shadowy Afghan units with a history of torture.
In a New Zealand-led raid on a village, our troops apparently killed innocent civilians then handed over the men and boys to US and Afghan soldiers who humiliated and terrorised them.
To their credit, our soldiers kicked up a stink and the villagers were released, although several detainees had mysteriously disappeared. Subsequent investigations showed the village had no link with either al-Qaeda or the Taleban. I bet they do now though.
The most chilling accusation was over our SAS troops attacking this village in the early hours of the morning - a 6-year-old girl panicked and ran. She fell into a well and broke her back. She died a lonely, long and painful death while her distraught parents were detained by our soldiers.
Ten years ago in my capacity as Alliance Party president, I was asked by our leader Jim Anderton why I was making my opposition to New Zealand's participation in the Afghanistan war a bottom line in our relationship.
I never bought into the propaganda that invading Afghanistan was necessary to capture Bin Laden and stop international terrorism. Funnily enough, the al-Qaeda leader was happily ensconced in Pakistan.
I remember US President George Bush announced within a year of the invasion that the hunt for Bin Laden wasn't his priority any more but he insisted we had to stay to keep the world safe from terrorism.
We conveniently forget that neither the Taleban nor any other Afghan has ever committed any terrorist or military action outside their own country's borders.
But even if we accept the West's rationale for us needing to be there, what's our new line now that Bin Laden is dead? Even the most optimistic reports are that there are only a few dozen members of al-Qaeda left in Afghanistan.
Of course the oppression of the Afghan people by fundamentalists is abhorrent. But so is our soldiers protecting a corrupt drug regime that we pretend has legitimacy to govern. The growth of the Taleban came about because the West armed them against the Soviet Union.
Everyone knows there is no end in sight and we will never conquer the country. The solution is that the Afghan people have to take responsibility for their destiny.
For those who still think we have some divine right to stay uninvited; for those with a sanitised view on reality - just imagine if it was your daughter who at 6 years old lay dying at the bottom of a well in the dark.
Moral war? Our Government has never apologised or offered compensation. We have the blood of a young girl dripping from our hands. The smell of her blood can't compete with the stench of hypocrisy from our politicians. Enough. Leave.