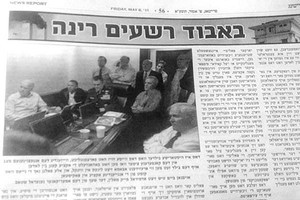 US Secretary of State Hillary Clinton's presence in the White House situation room has been removed from history in a Jewish publication.
The Hasidic newspaper Der Tzitung removed Mrs Clinton from the now iconic picture of US government leaders watching the raid in Pakistan which killed Osama bin Laden on May 1.
The USA Today reports the Yiddish-language paper also cropped out Audrey Tomason, director for counterterrorism, who was gathered with President Barack Obama and other security officials in the situation room during the mission.
The blog Failed Messiah first noted the women's disappearance, and Rabbi Jason Miller wrote for The Jewish Week that Der Tzitung does not include images of women in print "because it could be considered sexually suggestive."
It's not the first time such changes have been made in a Jewish publication.
In 2009, the Israeli paper Yated Ne'eman photoshopped the female ministers out of a picture of Israel's cabinet.
The White House released the photograph saying that it "may not be manipulated in any way."
- NZ Herald staff