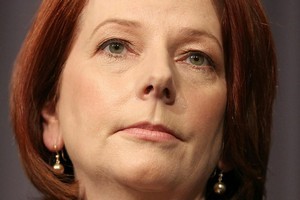 Prime Minister Julia Gillard has phoned US President Barack Obama to congratulate him on the recent killing of terror mastermind Osama bin Laden.
US Army helicopter pilots and Navy SEAL commandos raided bin Laden's compound in Pakistan on Monday, killing the al-Qaeda leader after a 10-year hunt for him following the September 11, 2001, attacks on America which claimed thousands of lives.
A spokeswoman for Ms Gillard said the prime minister had spoken to Mr Obama on Saturday morning to congratulate him on the Pakistan operation and bin Laden's death.
"The prime minister told the president it was a courageous decision and a job well done that had dealt a great blow against terrorism," the spokeswoman told AAP in a statement.
Ms Gillard and Mr Obama then discussed the need for continued vigilance in the fight against terrorism and the ongoing threat posed by al-Qaeda.
"The prime minister assured the president that Australia would stay the course in Afghanistan to ensure that it never again becomes a safe haven for terrorism," the spokeswoman said.
- AAP