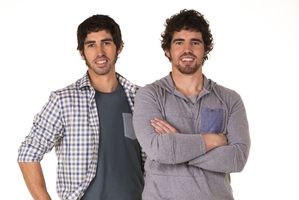 It's so tiring renovating a house. The all-night painting. The trussing up of a bedroom you can't even sleep in. Tearing strips off the walls, tearing strips off your partner. And that's just from the couch. I can't imagine how exhausting it must be actually participating on The Block NZ (Mondays, Tuesdays, Wednesdays, 7.30pm, TV3).
It makes for exhausting viewing. At time of writing, last night's episode was not available to see in advance. I'm sure that won't matter; it's on just about every other hour of the day.
Last week the teams got stuck into the master bedrooms and ensuites, having to incorporate a headboard they'd prepared previously. This was difficult because the headboards - is there anything less enticing than a homemade headboard? - were not particularly sleep-inducing. Loz and Tom's looked like a pedestrian crossing for the visually impaired. Pete and Andy's featured the Sky Tower.
What does make me sleepy is the workmanlike nature of the show. The most explosive thing that happened last week was when Alisa and Koan's shower door shattered.
Unfortunately no one was in it at the time. This didn't stop them from winning both the bedroom and ensuite challenges.
But I tend to tune out when the contestants discuss their plans for joinery or gibbing or splash-backs, which, frankly, belong in the same category as headboards. A splash-back sounds like something that belongs in the WC, not the kitchen.
Or when host Mark Richardson explained that the most exciting deliveries are finally here! What are they? Door frames. Apparently there's no builder-speak way to jazz those puppies up. It's like sitting through the relentlessness of Big Brother, only instead of watching the contestants get drunk and play strip poker we see, well, committed couples working hard. It's not like watching paint dry. It is watching paint dry. Imagine what the editors have to sit through.
Maybe I'm just not getting into the DIY spirit. The contestants have plenty of it, plus perseverance and optimism; I would've been divorced by the second episode. DIY rookie Loz, of Team Loz and Tom, is particularly watchable. When marital harmony is breached, Tom becomes "they" or "somebody" as in "they don't trust me" or "somebody vetoed it".
Each week the teams do some inane challenge to test their renovation skills. Last week it was to see who could build the longest plank that would hold someone over a pool of water, a macho contest that might as well have involved tape measures and nudity. Loz got to walk the plank and was not impressed.
Then there's the endearing Alice, of Team Alice and Caleb, who is becoming loopier the less sleep she gets. Perhaps that explains why she insisted on putting a chandelier in the boudoir, so "you could be castrated while lying in bed", said judge Jeremy Hansen. When choosing colours, Alice said, "I think the classic white will look ... quite classic."
Maybe it's just that all those hours of being filmed while you're half-asleep means you can't escape saying something silly.
Is there much value to be had in watching The Block if you're not of the DIY persuasion? I presume it was designed to be flicked on sporadically, or left on in the background like an infomercial.
Strangely, I feel as though I know Loz and Tom and Alisa and Koan and Alice and Caleb and Pete and Andy and yet, this is the first time I've sat down and purposefully watched two whole episodes, back to back.
Have I learnt anything? Yes. I will never attempt to renovate my house. Somebody definitely vetoed it.