Congestion concerns on main Takapuna road as DIY show properties put up for sale and open homes.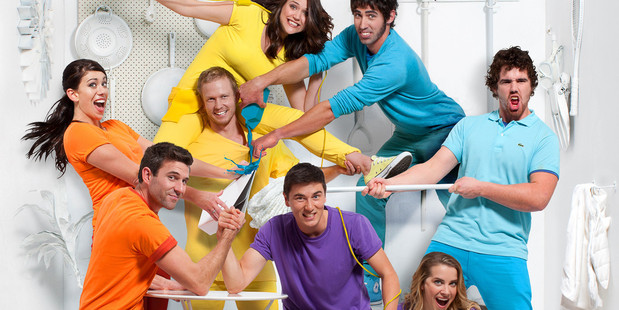 The listings for the properties renovated on The Block are up and open homes are set to go ahead next weekend.
But there are concerns about how traffic will be managed with up to 10,000 people expected to converge on Belmont, on the North Shore, for a snoop around the houses.
The four homes that have been done up by the contestants on the TV3 DIY reality show were listed on realestate.co.nz yesterday.
The homes on the corner of Lake and Eversleigh Rds will be auctioned live on television on October 30 and the contestants will keep any profit made on their house with the winners getting an additional $80,000.
House One, renovated by Alice and Caleb Pearson, both 26, has been pitched as a "gorgeous sunny home with instant street appeal".
The listing for House Two, done up by partners Alisa Keall-Grant, 23, and Koan Vette, 25, claimed that property was the "biggest and best" on the show.
House Three, worked on by brothers Pete, 26, and Andy Walker, 23, has been "completely renovated with a very high standard".
And the listing for House Four, renovated by couple Loz, 29, and Tom Heaphy, 31, said the contestants "dared to take some risks" but won numerous challenges and design awards by the judges throughout the programme.
Bayleys' national auction manager Daniel Coulson will head the team of experienced company auctioneers from around the country.
Mr Coulson last year sold contestants Ginny Death and Rhys Wineera's property for $805,000 in the live auction final.
Meanwhile, the council has approved a closure on Eversleigh Rd for 18 hours between Lake and Northboro Rds during the two days of open homes. A traffic and transport management plan will be in place.
Takapuna-Devonport Local Board chairman Chris Darby said residents had "a lot of concern" about the congestion the open homes would cause.
He urged people wanting to look at the houses to use the free 813 buses that will be running every 15 minutes that weekend from Takapuna.
Open home
Dates: Saturday, October 19 and Sunday, October 20
Time: 10am to 2pm both days
Where: Eversleigh Rd in Belmont on Auckland's North Shore
Teams
*The four teams will be on site from 10am to 2pm. They will mingle with visitors and sign autographs and have photos taken where possible.
*There are four houses to view with a one-way access route.
Houses
*Visitors will be allowed into each house for a limited time.
*Footwear may be worn inside as floors will be covered.
*Bathrooms and other facilities are not for public use. Portable toilets will be available on site.
*There will be a space to leave strollers.
*Pets are not allowed.
*The houses have no wheelchair access.