Warning: This episode contains spoilers. Do not read any further if you have not seen Breaking Bad episode S05E14, titled Ozymandias.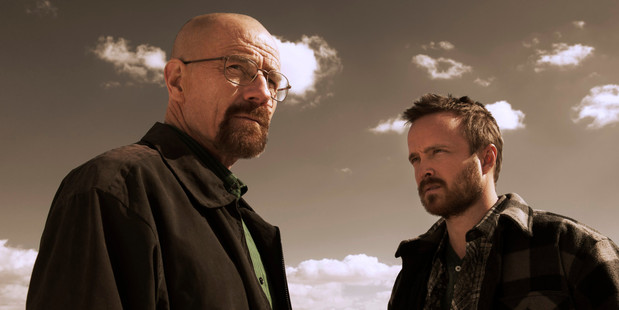 Breaking Bad fans have taken to Twitter to express shock, dismay and sadness after an epicly grim episode that saw two characters killed and a third tortured.
The episode, titled Ozymandias, showed the aftermath of a desert shootout that left last week's episode on a cliffhanger. DEA agents Hank and Gomez were killed in the gunfight, Todd's Nazi criminals stole six of Walt's seven barrels of cash, and also kidnapped Walt's former sidekick Jesse Pinkman.
But it was Walter White's final descent into the deranged, psychotic, nihilistic criminal mastermind he always threatened to be that really shook fans of the show up.
Among the many bad things he did in this week's episode were: Telling Jesse that he watched his girlfriend Jane overdose and didn't save her; Letting Todd's Nazi uncle take Jesse to torture him; Engaging in a knife fight with wife Skylar while son Walt Jr watched on; and stealing baby Holly and taking her on the run.
But it was a shockingly intense phone call back home to Skylar, while police tried to track Walt, which had the most impact on fans. During the conversation, White blamed his wife for his spiralling situation but continued to say that everything he had done had been for his family.
While Skylar pleaded for White to return Holly, Walt continued his diatribe towards her.
"You're always whining and complaining about how I make my money, just dragging me down while I do everything," the grim-faced drug kingpin said at one point.
Fans took to Twitter after the episode, expressing the full range emotions over the episode.
Some commentators called it the best episode of TV ever made.
The therapist I saw for The Red Wedding episode of Game of Thrones is about to get another visit from me. #BreakingBad

— Barret Swatek (@Barret_Swatek) September 16, 2013
Just watched one of the best episodes on TV - ever. No words. #BreakingBad

— Rhea Pasricha (@RheaPasricha) September 16, 2013
I'm pretty sure I care more about Jesse Pinkman than I do my entire family. #BreakingBad

— Bread Foster (@BreadFoster) September 16, 2013
#BreakingBad affecting anyone else's Monday? It effed me up.

— Rebecca Romijn (@RebeccaARomijn) September 16, 2013
Breaking Bad was so amazing I watched it feeling that I was in some trippy MRI trying to figure out who was going to kill me! #breakingbad

— Richard Lewis (@TheRichardLewis) September 16, 2013
Walt & Skyler's phone call is some of the greatest TV writing I've ever seen. Also, pants in the desert = best Easter egg ever. #BreakingBad

— alisonhaislip (@alisonhaislip) September 16, 2013
.@rianjohnson @YoWalleyB Kinda need you guys to drive over here and hug me right now. I'll be sitting naked on my front lawn. #BreakingBad

— Patton Oswalt (@pattonoswalt) September 16, 2013
We can all agree that tonight's #BreakingBad was one of the best episodes of any show ever, right? (Tweet brought to you from fetal position

— Kristin Dos Santos (@KristinDSantos) September 16, 2013
My face during tonight's #breakingbad http://t.co/15OPzAkcRw

— Deanna Russo (@DeannaRusso) September 16, 2013
There are two episodes of Breaking Bad left to screen.
- nzherald.co.nz