Boys from Louisiana a lot more colourful than bunch of Kiwi shearers and their over-dramatised work.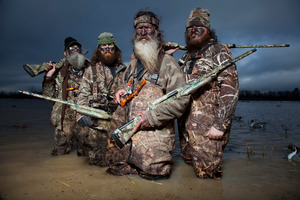 In an unexpected development, yokels have become the heroes of the moment in the increasingly mad world of reality television.
And by yokels, of course I mean people with deep and meaningful rural connections.
Word-shy people with bad dress sense. People from places like Southland, Central Otago and Louisiana. People like the rough and cuddlesome brothers from Gore who are currently supplying the sole sense of personality on the epic new series of The Block NZ, three nights a week on TV3.
Though, oddly, in another of TV's recent rural moments, the most charismatic thing on screen is the landscape and maybe some of the sheep.
Shearing Gang (Prime, Wednesday, 9.30pm) is a series that attempts to make heroes out of - you guessed it - a shearing gang, this one based down in Alexandra.
And it's just as well there is all that eye-catching landscape, because this show is woolly without ever being exactly wild, though after they've had a few drinks on a Saturday night, some of those shearers do look a touch feral.
As is sometimes the way with these sorts of shows, there's too much air in its tyres - too much pumped-up drama in the honking voiceover as the cameras catch the somewhat repetitive action of the shearers' average day.
I'd need to be a retired farmer to get excited by the exploits of taciturn Peter Lyon and his even more taciturn gang of shearers and the exceedingly blunt blokes who hire them.
Much was made of the pressure to shear 200 sheep apiece a day. "They're coming up short," wailed the voice track, before losing the plot completely with a line about "the boss riding them like a merino on the edge of a cliff", conjuring up an alarming image for the average urban viewer.
But this tale of men and merinos struggles more for the human touch than the sheepish.
The problem is that no one really has much to say for him or (occasionally) herself, their lives or connection to their nomadic and tribal working life.
For true rural madness and an almost life-threatening level of charisma, there's Duck Dynasty (TV2, Saturday, 7pm), a cartoonish new American series about a family of Louisiana hillbillies who built an empire on a duck call granddaddy invented.
All beards, guns and attitude, this show lifts off with opening titles built around ZZ Top's Sharp Dressed Man and never really lets go as brothers Jase and Willie bicker about whether to go to work or go hunting and hard-eyed, grey-bearded daddy Phil dispenses wry wisdom in every available gap.
The show's winning card is that, in spite of all the scary beards, frog-based diet and the ominous presence of crazy Uncle Si, it's about family values. They say grace before they tuck into their weird food and, despite all the feuding, they seem to love each other.
And no ducks died - well not in the first episode. Though it was a very different story for frogs.