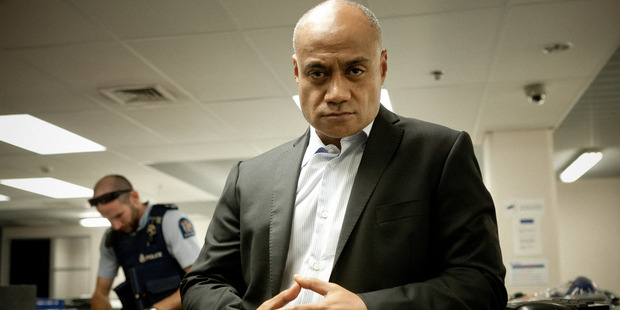 It has been a week of challenging television viewing - challenging even without catching much Seven Sharp. I've joined the apparently growing crowd watching the Dad's Army reruns over on Sky's nostalgia channel, Jones, instead.
And I don't care if this marks me out as an antique. I'll do almost anything for a laugh by the time seven o'clock rolls round on a week night and I know I'm not going to get any from the three stooges on that Sharp show.
Though, oddly, the only thing really wrong with TV One's Seven Sharp is its hapless frontline. The show does contain decent stories if you can get past all the over-populated presentation.
There have been decent local stories elsewhere, of course. Like Harry, the gritty crime drama that finished its six-week run on TV3 last Wednesday night.
Starring the striking features of Oscar Kightley, who co-wrote it, Harry fell a little short on character development and actorly nuance, but still impressed thanks to fresh-from-the-police-files stories and its steely, stylish look.
There was also some real social shock value in its confrontation with the scary city side of Samoan culture and the story's focus on Auckland's meth-fuelled underbelly.
This first series of Harry finished almost crying out for a second run and a new theme - domestic violence perhaps. This show might have found a compelling way to teach us a little more about ourselves.
On the other hand, New Zealand From Above (Prime, last night, 8.30) wouldn't have told you much about us and our place you didn't already know.
Matching splendiferous helicopter-eye scenery with vacuous voiceover, this local five-parter set out to show us the "wonders" of New Zealand from above starting, last night, in the far south.
I felt slightly brain dead by halfway through - a combination of all that mountain-lake-and-sea beauty, the soporific muzak and that endless feed of cliches delivered in a voice alarmingly like Dominic X Factor Bowden's, though credited to one Julian Pulvermacher.
I'm sure overseas sales for this touristy affair will be lively, but its only moments of life for me last night were when the show occasionally broke its own implied rule and came down to earth to interview someone.
My show of the week turned up in an odd corner - on TV One, right after Praise Be.
Attitude is a clever and heart-warming documentary series about the lives and especially the attitude of some of the 17 per cent of New Zealanders who are disabled.
And if that sounds just a little bit boring, then it wasn't. I don't know if it was just the early hour, but Sunday's episode was a bit of an emotional experience, a lovely observational piece about blind 13-year-old musician Cam Dawson.
Filmed across several months, it let us see a funny, sharp, lonely and gifted boy behind the unsettling eyes.
A lot of it was in his own words. "I can be a little blunt or sarcastic," he warned. Mostly, Cam was a star, brave enough to let us in on the heart-wrenching parting as his little family left him alone in the big city.
Next week, Attitude spends its half hour with a deaf rugby team. I'll be there.