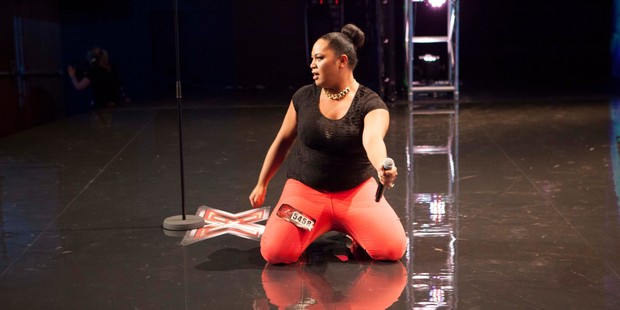 She's the drag queen diva from Mangere who auditioned on X Factor NZ last week - now 18-year-old Ashley Tonga is the toast of an American television show, a YouTube hit and is gearing up for a gig in Sydney on Saturday.
Last week Ashley performed an entertaining and energetic rendition of the hit Proud Mary. So vigorous was her routine, in fact, production staff had to make repairs to the stage after she departed.
Tonga scored universal acclaim from the four X Factor judges and progressed to the boot camp stage of the competition. But it's what happened next that's catapulted the South Auckland teenager into the global spotlight.
The self-proclaimed "Princess of Mangere" has become a YouTube sensation. Her X Factor audition has been viewed 375,000 times (the most YouTube views of all the contestants). And Tonga has accumulated more than 6000 Facebook fans.
Her performance even made it on to America's Watch What Happens Live on Thursday night with American Idol season three winner Fantasia Barrino cheering her on.
Andy Cohen, host of the late-night talk show on Bravo's cable TV network, who was tasked with promoting Barrino's new album, Side Effects of You, introduced Tonga to his viewers.
"Watch this young drag queen on X Factor New Zealand who is clearly inspired by Fantasia," Cohen said. "Look, [turning to Fantasia] she's doing your thing".
Tonga's Kiwi audition tape aired to millions of American viewers with woops and cheers from the studio audience.
Tonga was too tired to get out of bed when The Diary phoned yesterday (it was before midday), but her cousin, Nini Palu, said she was thrilled with the reception she'd received so far. "It's been so crazy. Ashley has to cover her face when she goes out into the main centre of Mangere."
The pair are off to Sydney at the end of the week - their first trip to Oz - where Ashley will perform at One World Bar in Parramatta on Saturday.
DJ Peter Gunz saw her YouTube tape and secured her performance at the event. She will sing a set, including Proud Mary and Bridge Over Troubled Water.
Meanwhile, Mitchell "Chicken Man" Wahl's notorious audition last week also made international headlines.
The Huffington Post said as far as X Factor auditions go, Mitchell's "may be the weirdest one ever".
However, the man who keeps 50 chickens at his home in Kerikeri, is unfazed. He hit the media circuit around New Zealand and is now looking for an agent "to pursue his career".
JK's blue Jaffa bid
We know them as Jaffas. The iconic choc-orange confectionary; not the Aucklander (Jafa). But perhaps it's no surprise that enterprising plans to combine the two were afoot.
Auckland Blues coach Sir John Kirwan spearheaded discussions with tourism execs about turning Jaffas blue in a bid to promote the city and its footy team.
But reps for the Blues told The Diary: "Those discussions took place before the rugby season started, but nothing got off the ground."
Largely because Nestle (a sponsor of the Blues) does not make the lolly ball - Cadbury does.
Ramsay's Clinton sex quip
Celebrity chef Gordon Ramsay is known for his stinging criticism and liberal use of profanity, but he can get over a grudge, too.
Ramsay's visit last week saw him make good on a settlement deal he hammered out last year with David Higgins and his events company.
Duco Events were seeking $2.1 million in damages after Ramsay pulled out of two scheduled charity dinners. A confidential settlement was reached after an acrimonious 18-month dispute.
However, feelings were still running high when he arrived.
Duco lawyer Damian Chesterman, who was involved with the suit, told The Diary Ramsay baulked at an offer to have dinner with Higgins.
"David's staff sent an email to Gordon's assistant suggesting a meal together," Chesterman told The Diary. "But Ramsay scoffed: 'dinner with David f**king Higgins?! I'd rather go down on Hilary Clinton!"'
But Ramsay changed his mind and extended an olive branch, inviting Higgins to dinner. They choppered to Waiheke's Te Whau restaurant on Saturday. Later, they shook hands and left on good terms.
The night before, Ramsay charmed more than 1000 people at a gala dinner where he flirted with MC Alison Mau and criticised our public holiday dining surcharges.
"Do you have any idea why your economy is f****d?" he asked the crowd. "You charge 15 per cent surcharge on holidays! Anzac Day yesterday, and I left my hotel and went out to eat.
"I was the only bloody one in the restaurant."
• Rachel Hunter bonded with her kids Renee, 20, and Liam, 18, on the high seas off California on the weekend. Liam says he "knows how to sail, but doesn't know how to drive a car". That's not very Kiwi. His 43-year-old mum, who's now sporting thick black frames so she can "read long distance", was later seen at a Rolling Stones gig with her 33-year-old former step-daughter Kimberley.
•Dan Carter and his dad, Neville, also played happy families wearing their hometown Southbridge Rugby Club colours. Dan debuted a preppy comb-over wave only Winston Peters would envy.
•Keisha Castle-Hughes, 23, took to Instagram to share a collection of snaps of her daughter, Felicity, who turned 6 on Thursday.
•Hayley Holt channelled a domestic baking goddess; fashion designer Frances Hooper channelled Korean pop star Psy; and boxer Joseph Parker channelled a couch slouch. The 21-year-old South Aucklander, who's in Las Vegas with trainer Kevin Barry, took to Twitter to share a time-out snap - and showman decor. Pink walls, leather settees and marble busts? Very Liberace.
•Meanwhile, Sonny Bill Williams channelled Justin Bieber - or maybe Urkel? The league hard man posed with Fortafy, a Brisbane hip-hop artist signed to New Zealand's Dawn Raid Entertainment. The pair share tatts, hats and chats on social media.