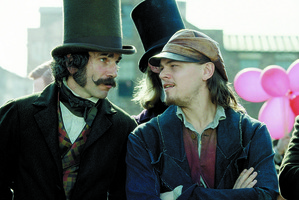 Legendary US film-maker Martin Scorsese is to make a television series of Gangs of New York, the epic story he brought to the big screen in an Oscar-nominated 2002 movie.
Scorsese is teaming up with film and TV studio Miramax to make the small-screen series, about fighting between newly-arrived Irish immigrants and local "natives" in New York in the late 19th century.
Scorsese made the film - which was nominated for 10 Oscars including best picture, best director and best actor for Daniel Day-Lewis - after reading the book of the same name by Herbert Asbury.
"He had always envisioned this story to be an American epic and will now get to see it more fully realised," said a statement by Miramax and Scorsese.
The film-maker added: "This time and era of America's history and heritage is rich with characters and stories that we could not fully explore in a two-hour film."
"A television series allows us the time and creative freedom to bring this colourful world to life. I am excited to partner with Miramax in telling these stories."
The series will draw on events surrounding gangs not only in New York but in other cities such as Chicago and New Orleans, and focus on the birth of organised crime in the US.
Miramax chairman Richard Nanula praised Scorsese's film-making skills: "His dedication to quality and the art of storytelling continues to excite everyone that works with him and watches his films and television programmes."
Gangs of New York grossed US$77.8 million ($93 million) in the United States and another US$116 million worldwide.
But despite being nominated in 10 categories, it won no Academy Awards.
Meanwhile, New York's Tribeca Film Festival will close with a 30th anniversary restoration of Scorsese's The King of Comedy.
This year's festival will bow out on April 27 with the film, starring one of its founders, Robert De Niro.
In the 1983 dark comedy, he stars as aspiring comedian Rupert Pupkin, whose obsessive celebrity hounding leads to kidnapping.
Tribeca co-founder Jane Rosenthal said it had always been a goal of Scorsese's to use the festival, with which he's closely associated, to showcase restored and rediscovered films.
The 12th annual Tribeca Film Festival opens on April 17.
-AAP