Kevin's best in design biz, writes Sarah Lang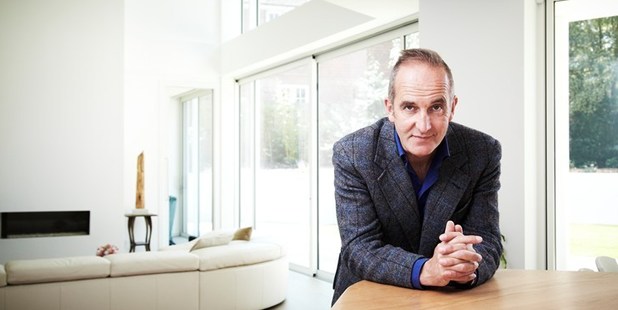 When home-build show Grand Designs first aired in 1999, few could have predicted it would attract a cult following - or that the show's face and brains Kevin McCloud would become a global superstar in the architecture and design world.
Now in its 12th season in Britain and airing in 16 countries, the show continues to track unusual, extravagant or ambitious home-construction projects from vision to reality. The Grand Designs umbrella also shelters several spin-offs plus postscript show Grand Designs Revisited, which recaps and updates projects previously featured on Grand Designs. The latest series, All New Grand Designs Revisited, premieres on TV3 on Thursday.
These revisited episodes are a win-win for all concerned. After investing up to three years tracking the original project, Grand Designs gets to reuse lots of footage and create a new episode on the cheap. McCloud gets to satisfy his curiosity about how the new homes have affected their inhabitants' lives and bank accounts.
Seasoned viewers get to find out what happened next to their favourites (did the couple running their restored castle as a B&B go bankrupt?) while new Grand Designs converts get a stand-alone watch. Plus the owners get another home movie to show their grandkids one day.
The series opener revisits architectural designer Lincoln Miles and his artist wife Lisa Traxler on the Isle of Wight. Their grand design quadruples the size of their 1970s bungalow and adds two huge extensions, including a three-level tower, as they try to blend the building with the surrounding woodland and stick to an unlikely timeframe and budget. What could go wrong?
What screens is a slightly shorter version of the original episode, plus a nine-minute segment where McCloud swings by two years after the couple moved in. It follows the usual Grand Designs formula of Grand Vision, Everyone's Excited, McCloud Has Reservations, Major Hurdle and The Finished Product, but with a new Test of Time preceding a new Profound Closing Comment.
Grand Designs uses more or less the same formula each episode, but that's because it works so well - and McCloud keeps things fresh and interesting. In this episode, we see him build a strong, unforced rapport with the couple, trading dry quips with "Linc" and ribbing Lisa over the cow-poo-and-yoghurt cladding. I like McCloud's focus on the people behind the buildings: their needs, pressures, stress, relationships, compromises and how, after they shape the house, the house shapes them. I also like that he's no passive commentator but an active participant who's keen to muck in.
Over 14 years, we've seen McCloud's frown lines deepen and seen his hair thin. He's still strangely sexy and immensely likeable, partly because he takes the show seriously, but not himself.
After 140-odd episodes, he still gets excited about every project. At the same time, he's always upfront with the owners about any concerns - and can say a lot with a pause or eyebrow raise - but is happy to be proved wrong. Who else would make little models from cardboard, sellotape, blu-tack or whatever's at hand to explain complex concepts?
He's the best in the biz.