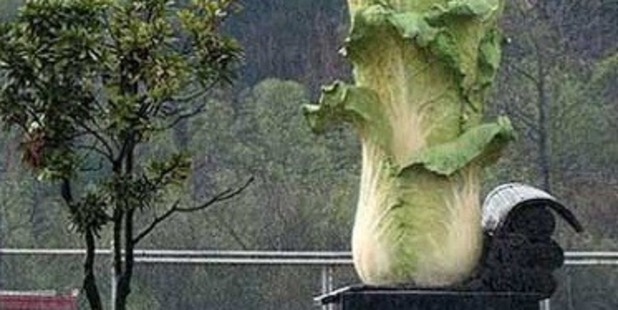 A statue of cabbage
Students in southern China were baffled when a 6m-high statue of a cabbage appeared at their school entrance. "Statues are supposed to inspire us to produce great work. What's a cabbage supposed to inspire?" asked one pupil at the Qianshan No 2 Middle School in Jiangxi province. The fibreglass statue is a tribute to a 17th century leader, Da Jiliang, who painted a cabbage to inspire himself to work hard. In Mandarin, cabbage is pronounced "baicai" with "bai" meaning white, or impossible to corrupt.
When life gets hard, make like a zombie and play dead
The current zombie fad - where people dress up like zombies and lurch about - could be more than fandom for the television show The Walking Dead. Professor Sarah Lauro, of Clemson University in the United States, says people get into zombies when they're fed up with societal woes. "We are more interested in the zombie at times when as a culture we feel disempowered," she says. "And when we are experiencing economic crises, the vast population is feeling disempowered ...
playing dead."
Dirty Harry spreading God's message
In the name of balance: "For years the Church has used metaphoric illustrations to enlighten pagans," writes Paul Messen. "I think I can answer what the Dirty Harry Easter pack has to do with Easter. The phrase 'Make my Day' is used as a warning to a potential lawbreaker. It means, 'Go ahead, break the law and you will see my justice.' The .44 magnum is the gun which dispenses justice to the wicked. It is the modern day version of the Cross, or crucifixion. The cup reminds us of Jesus' plea to the Father in the garden of Olives: 'Father, if it is possible, may this cup be taken from me'. In some bizarre way, this cheap marketing ploy to cash in on Easter gives a better Gospel message than any shark, rabbit or rugby ball. I might get one for my church if they aren't all sold out!"
Bus dramas provide lunchtime entertainment
"My wife and I were lunching at a roadside cafe in Tirau the other day when we observed the following," writes Michael. "An InterCity bus was getting a tyre changed. The bus driver was obviously under pressure to get under way again, so after the bus was lowered, the passengers filed on and the bus set off south. A moment later, a lady appeared from a nearby shop and was horrified to see the bus heading off. She sprinted with much hand-waving but the chase was hopeless. Soon after she caught up with a similarly discombobulated person who had appeared from another shop. A courier truck stepped up and the left-behind passengers were last seen going after the bus. But we are left wondering: Were we reading the scene correctly? Did the courier truck catch the bus? What did the bus driver say? BTW, Intercity: if you are looking for the hub cap for that bus, it looked as though it was upside down in the middle of Tirau's main street, along with some of the shredded tyre remains."
Kids: I bought the book Darth Vader and Son for my ratbag for Chirstmas and I am delighted there is a sequel where the world's most evil dad spends some quality time with his daughter, Princess Leia.
Video: The electric fence experiment...
Satire: North Korea threatens New Zealand with nuclear strike; nothing we can do, says Key...
Not satire: Liz Shaw can't stand Duncan Garner and Guyon Espiner, so much they feature in both episode of the You Tube-based The Liz Shaw Show posted just last week. Watch her take on sexism, women, media, obesity here ...And on Anna Guy and Oscar Pistorius here.
(You may remember Liz from her stand out NZ Idol audition in 2005. Still pursuing a music career, Liz has also put her hand up for Tv3s upcoming X Factor with this rendition of a Lady Gaga tune
Video: If you hate your own commute, spare a thought for this guy whose valient attempt to exit the train is foiled by oncoming passengers...

* Got a Sideswipe? Send your pictures, links and anecdotes to Ana at ana.samways@nzherald.co.nz