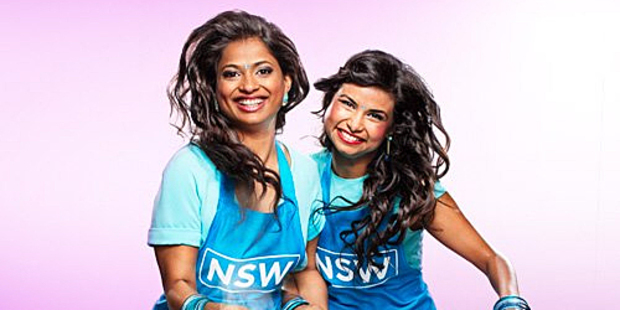 A pair of contestants have been subjected to racist abuse and death threats after appearing on the Australian reality TV show My Kitchen Rules.
Jessie Khan and Biswa Kamila, who were known as 'The Spice Girls' on MKR, were eliminated from the cooking competition on Wednesday.
The pair oozed confidence and spoke bluntly about their opponents on the high rating Seven Network program, prompting a storm of racist abuse and even death threats on social media.
They have spoken of their shock at the abuse they suffered in a recent interview with the Sydney Morning Herald.
"The thing I am concerned about is the race comments, that worries me," Kamila said. "We are caught between two worlds. The Indian community doesn't want to adopt us, the Australians just think we are a***holes."
Khan said they made an error of not treating the show as a game.
Instead they entered the series with the premise of only wanting to have "fun" and didn't expect the social media vitriol and death threats.
"If I was in their (viewers) shoes maybe I would be thinking the same like, 'these girls - I can't believe it, s**t just falls out of their mouths'," Khan said.
"We've had death threats, but I don't take it seriously.
"It is all social media anyway."
Khan said they were just being themselves when giving their opinions to one another about the other contestants.
In hindsight, Khan said they should have been a little more humble, more strategic and more aware of the cameras.
"We had nothing planned before we entered the show and we said 'Let's just have fun'.
"Fun turned into something completely different in Australia's eyes.
"Sometimes we didn't even realise the cameras were there or the mics were on and we were speaking like we would to each other at home."
Adding salt to the wound of being the first eliminated, the pair scored the lowest ever total for MKR when they received just 41 points.
That dented Khan and Kamila's pride.
From that point, even with two more cook-offs remaining, they knew they were doomed.
"We had big expectations on ourselves and to not meet that high standard was really disappointing," Khan said.
"At the end of our cook-off we knew we were probably going to go home.
"If we cooked tonight and relaxed we could probably get 10 out 10 but that didn't happen."
Khan said she and Kamila would be open to appearing on other reality shows but only if they were based on cooking.
"We are passionate about cooking and that's why we went on the cooking show.
"If I had another chance to prove myself, why not."
- AAP