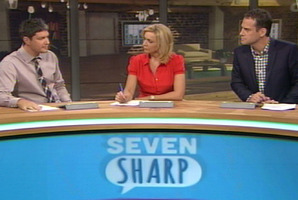 TV One's new daily prime time show Seven Sharp had a solid but unspectacular first night audience, according to overnight ratings supplied by NielsenTAM people meters.
Estimates for the new infotainment show - starring Alison Mau, Jesse Mulligan and Greg Boyed - were similar to those for Close Up this time last year.
Seven Sharp maintainedClose Up's lead over TV3's Campbell Live.
With heavy promotion combining with secrecy over its format, competitors at TV3 and Prime TV said they expected a lot of people would be trying out the new show.
They would be watching second night ratings very closely to see if they held up, they told the Herald.
TVNZ said the first night audience for Seven Sharp was good and the show's performance would be apparent "in the days and weeks ahead.''
"It is a marathon, not a sprint,'' said spokeswoman Georgie Hills.
The TV2 soap Shortland Street maintained its dominance of the 7pm timeslot, and picked up two ratings points in its second half, while Seven Sharp lost one ratings point.
Ratings in the early evening time slot are always low this time of the year with good weather drawing people outside.
And TVNZ is using this time to settle the new show in.
But problems at the start also risk burning off the new, younger viewers it wants to attract to the show.
Among people aged 25-54 years, Seven Sharp scored 17 per cent of the TV
audience watching at the time, compared to 12.3 per cent for Campbell Live and
45.5 per cent for Shortland Street.
TV3 news and current affairs director Mark Jennings said it was not changing Campbell Live to fit its new competitor.
Advertising commentator Martin Gillman said Campbell Live might benefit initially from Seven Sharp's start up period and said the social media aspect might have overwhelmed the first show.
The show has had mixed reviews and content has been criticised on social media, but Mr Gillman said he was happy and it was what many advertisers expected.
Amongst TV professionals approached, there was a common view that it would take some time to bed in.