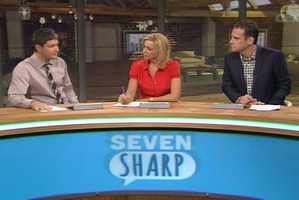 TV One's new 7pm current affairs show Seven Sharp has embraced social media, with Twitter and Facebook posts appearing on the screen during the show.
However a lot of the comment on social media about the new show, which made its debut last night, was less than complimentary.
"It's just so much more awful than I ever thought possible," blogger Martyn Bradbury wrote.
"The format's fine. The content *really* needs work," blogger and Media3 host Russell Brown added.
Host Jesse Mulligan's fellow comedians waded in with their thoughts on Twitter.
"Going off the number of people who thought the #sevensharp PTSD [post-traumatic stress disorder] story was 'hard hitting' this dead pig might yet fly," Jeremy Elwood wrote on Twitter.
"So, it's sort of like a Telethon, but with the news," Michele A'Court said.
The deadpan Guy Williams summed up the way the show used social media.
"They're using the Internet and as a young person that appeals to me!"
Steve Wrigley, however, took on the show's critics.
"'Arrrrrrrgh!!! It's different from what I'm used to and I'm frightened!!!' - #SevenSharp critics."
Other journalists were amongst the most critical.
"No offence - but this is rubbish..." Maori Television's Julian Wilcox wrote.
"I'm confused. Is this a school project?" Fairfax's Rob Kidd quipped.
"Paul Henry will be in TV One's 7pm weeknight slot within 3 months," nzherald.co.nz's Chris Schulz predicted.
"I can't bear to say out loud just what I really thought about #sevensharp, other than that the first episode of Seinfeld wasn't flash at all," Newstalk ZB announcer and Choice TV host Tim Roxborogh wrote.
"A 'current affairs' show on a state TV should be holding the govt. to account. Not finding out what PM eats for lunch," stuff.co.nz's Andy Fyers said.
The criticism from journalists prompted others in the media to wade in.
"Journalists of NZ: Play nice! We all work hard. We all win/fail daily. Let's give people more than 20 mins before savaging them," Stuff Nation editor Janine Fenwick wrote.
Ridicule and criticism aside, the show did have its supporters.
"#sevensharp a step in the right direction. This timeslot needed a fresh show and this is bold & smart mix of tv and social media intertwined," Yvonne Grace said on Twitter.
"Enjoying the tone of the new show ... Very different... Great vibe amongst the presenters," TVNZ's Joy Reid wrote.
"Fresh, interesting. I liked it. Doesn't purport to be serious current affairs but we need to get kids reconnecting with news," North & South and Metro editor-at-large Donna Chisholm wrote.
"I totally think that the format has the potential to be great, it definitely needs a bit of time to work it though," TVNZ U's presenter Rose Matafeo said.
Many others opted to reserve their judgements until they'd seen all of this week's episodes.
Those involved in the show, for their part, appreciated the compliments and took some of the criticism on board.
"Guys thanks for all the lovely tweets about our fluff piece on #sevensharp. We're going to have some fun on this show!" Heather du Plessis-Allan wrote.
"Thanks for feedback. Enjoyed the constructive stuff. Agree: should make the much discussed *social media* content less self-conscious," Jesse Mulligan said.
"Agree 'the hosts will warm up', but remember audiences take a few eps to warm up too. Predict we'll meet each other half way.
"Will have to fwd concerns about 'pixellated logo', 'bad white balance', 'shaky camera'. Although we can't fire the camera guy, he's a robot.
"Greg and Ali are first class. It's likely I'm the 'sound problem', having learnt my am-dram projection style at Hamilton's Riverlea Theatre.
"Happy to ask about anything else you notice. But if you don't think David Parker rejoining his alien family is funny, we can't be friends."
- nzherald.co.nz