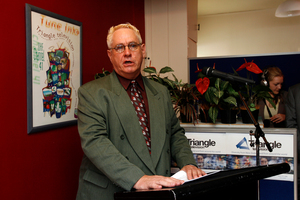 A former critic of Sky TV says his new public-service channel Face TV would not be going to air without the help of the pay television operator.
Some people in the free-to-air sector say Sky has shut out competition, and privately attack both National and Labour Governments for giving it a free ride with no regulation.
Veteran community television campaigner Jim Blackman complained Sky TV installers were shutting out viewers, failing to tune TV sets with community channels such as Auckland's Triangle TV.
Now Blackman is singing the company's praises. Sky is subsidising his public service channel Face TV with free bandwidth on channel 89 on its digital platform.
Face TV begins on February 1 with a mix of community-based content, Al Jazeera, the news service Euronews and American PBS NewsHour.
"Sky were the ogre of the television industry but we have found them better to deal with than any of the other broadcasters," said Blackman.
His previous public TV channel, Stratos, ran on the Freeview platform but was forced off the air at the end of 2011, in part, he said, because of the high cost of delivering signals through government transmission company Kordia.
Meanwhile, free channels such as TVNZ and TV3 see no reason to assist community television, which would only eat into their audience.
Enter Sky TV, which is facing regulatory scrutiny from the Commerce Commission.
Its free transmission and inclusion of Face TV in the basic Sky package improves its offering to subscribers at a relatively low cost, while claiming the high ground for delivering public television ignored by the free TV sector.
Campaigners say it's an oxymoron - you cannot have public TV delivered solely on a pay-TV platform, and Blackman can see the irony.
For Sky, offering access on its platform is cheap and excellent public relations with the Government.