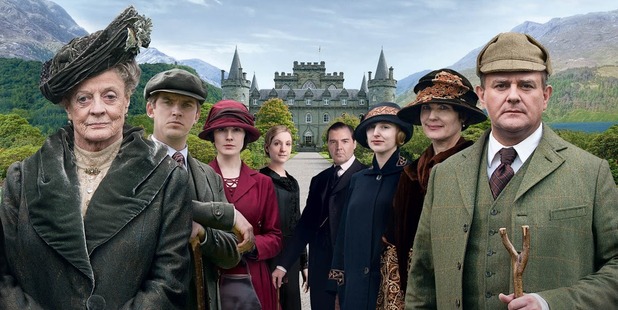 Pick of the week: Downton Abbey Christmas Special
It will be enough to leave any Downton fan reeling - and not just because so much of this two-hour special is taken up with fly-fishing and Scottish country dancing as the Crawleys have a summer holiday in the Highlands.
That's because this extension of season three comes with a series of big events, the biggest of which are in the final scenes (so won't be spoiled here).
But the special, unlike last year's Yuletide one-off, isn't set at Christmas. Instead it begins a year after the end of the third series, in September 1921.
Lady Mary, we find, is now happily preggers; her and hubby Matthew have put all those fertility worries behind them.
Her delicate condition isn't stopping her making the journey with the rest of the family and some of the servants to picturesque Duneagle Castle - the ancestral home of Hugh MacClare, Marquess of Flintshire, known to his relations as "Shrimpie".
He and his wife Susan, the Marchioness of Flintshire, are the parents of Lady Rose MacClare, the wayward young thing we first met at the end of the third season, and who we will be seeing even more of in the fourth.
Despite the warm welcome, there's some tensions evident among the MacClares, especially between the parents who are about to be sent abroad to some colonial outpost in a viceroy position, leaving them wondering what they should do with their troublesome daughter.
But the Crawleys have plenty of opportunity to be out in the fresh Highland air, hunting, fishing, having picnics by the local loch and generally doing their bit for Scottish tourism.
Lady Edith welcomes her editor Michael Gregson, who just happened to be holidaying nearby, as a dinner guest at Duneagle. Meanwhile, the visiting Downton servants come up against the castle's own staff who are ruled by someone even sterner than Mr Carson.
Carson is back at Downton forcing most of the staff who thought they could relax while the family is away into silverware polishing duties, though there is the prospect of an outing at a local fair.
And there seems to be romance in the air back in Yorkshire - Mrs Patmore finds the new local grocer has taken a shine to her, while new maid Edna has designs on Tom Branson, Lady Sybil's widower - who, having not being invited up to Scotland, has remained behind at Downton with his daughter and who, as a former servant himself, is feeling awkward about being left as the master of the house.
When: Sunday, 8.35pm
Where: Prime
What: Our friends in the north
Music pick: American Idol
Given the ratings hit American Idol took last year and the departure of judges Jennifer Lopez and the likeable Steven Tyler, it's hard not to think the verbal stoush between newbies Mariah Carey and Nicki Minaj was just a carefully planned publicity stunt to reinspire some interest in the show. Apparently it wasn't and Minaj is capable of some fireworks, which we will hopefully see more of when season 12 starts on Prime tomorrow.
Screening here two days after the United States, this year's format will include visiting 10 small towns during auditions, and there are rumours the early rounds will split contestants into boys versus girls.
The show will once again be hosted by Ryan Seacrest, Randy Jackson returns as the only original judge, and also on the panel is Aussie country star Keith Urban.
When: Friday, 7.30pm
Where: Prime
What: The search is on (again)
Comedy pick: Never Mind The Buzzcocks
This music quiz show from Britain is more about the laughs than getting the answers right. Like a musical 7 Days, perhaps? Not that there isn't some healthy competition between the regular team captains, comedians Phil Jupitus and Noel Fielding, to see who has the best music knowledge.
Also making the show unique is a guest star playing referee every week, and the teams are an intriguing mix - like when opera star Russell Watson buddies up with grime artist Wiley.
The first episode to screen on Prime this week features superstar producer Mark Ronson as host, who will guide the teams through rounds on everything from indecipherable lyrics to guessing who the pop star from yesteryear is.
Prepare for some big laughs, and even bigger personal insults, from this irreverent, long-running comedy.
When: Monday, 8.30pm
Where: Prime
What: Musical laughs
Wildlife pick: Africa
Sir David Attenborough may seem to be a little ubiquitous on the telly currently but this latest wildlife series from BBC1, in which he is narrator and host, is a mesmerising piece of nature documentary.
Exploring both the joyous and more desperate sides of the natural world, Attenborough surveys the dramatic African continent with the help of outstandingly intimate footage. From the Atlas Mountains to the Cape of Good Hope, the series gets eye-to-eye with unknown species while reintroducing us to favourites - prehistoric-looking shoebill birds fight for position, plucky lizards hunt for food on the backs of lions, and giraffes engage in fierce battles.
The show will focus on one African region per episode, plus there is an episode dedicated to looking at the making of the show.
When: Tuesday, 8.30pm
Where: TV One
What: Getting you much closer than a safari
Supernatural pick: 666 Park Avenue
It seems like a dream come true when young couple Jane Van Veen (Rachael Taylor) and Henry Martin (Dave Annable) are hired as the new managers of the historic Drake residential hotel at 666 Park Avenue.
The ambitious young couple wouldn't be able to rent a closet in the upscale building under usual circumstances, but when Gavin and Olivia Doran (Terry O'Quinn and Vanessa Williams, pictured), make them the building's managers they step into a world of wealth - and a huge swanky apartment is a part of the deal.
But what is the price they'll pay for their seeming good fortune? And why is Jane starting to have bad dreams?
Despite some enthusiastic reviews when it debuted in the US, this gothic thriller was canned by ABC after its first season.
When: Friday, 8.30pm
Where: TV2
What: The horror of New York real estate
- TimeOut