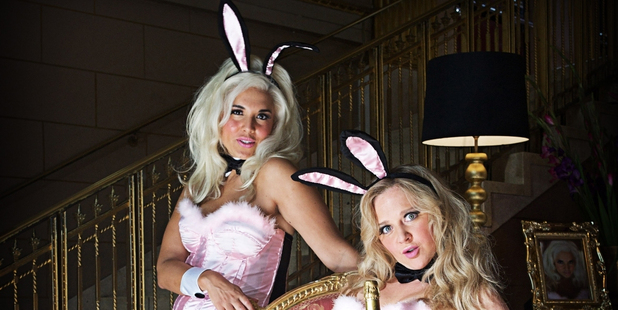 Lorna Watson and Ingrid Oliver go way back. Back to before they were doing live comedy, playing at the Edinburgh Festival or performing and writing for the likes of The IT Crowd and Peep Show.
Now they're the titular stars of BBC sketch show Watson & Oliver, currently into its second season. It's somewhere they hoped they might end up 20 years ago when they were first amusing their mates and annoying their parents.
Apparently Watson was a real class clown. "She was always the show-off in our group," Oliver laughs. "She loved it."
Watson looks comically incredulous, but admits, "We were at a girls school, so perhaps without the boys around, it encourages you a bit.
"You're not worried about what you look like, you're more interested in making your friends laugh, and being a dick."
And their early tradition of involving a musical dance routine in their performances (they used to carry a tape deck with them) has even been maintained.
"We used to always end our live shows with a big musical number, and we'd always rehearse at Lorna's mum's house and her poor mum and dad would have to watch us behaving like 12-year-olds showing off," remembers Oliver.
"And I think there's an element of that in what we're doing now - I feel like I'm showing off to my parents."
"Come and watch this thing what we done ... " jokes Watson. "There's definitely a childish element to it."
Their show includes roughly 10 to 12 sketches per episode, some filmed in front of a live audience, some on location, and has the pair playing a whole melting pot of characters, complete with elaborate costumes and props.
There's the prison officer and inmate, the playboy bunnies, Kate and Wills, the anti-terrorism unit, the Georgian-era women with absolutely no sense or sensibility, the cafe proprietors - and that's just in the first episode.
Some of the characters and scenarios reappear several times throughout the series, but there's a mix of strong one-off jokes too.
The ideas come from all corners too - sometimes people they meet, or places they visit, but also from popular culture, other television shows or films.
"Lorna's very good at observing people and picking up their peccadilloes, her ear is very attuned to that sort of thing," Oliver says.
"That sketch about the cafe is based on an actual cafe that my sister took me to, near her work. Everybody in there said 'darling', every other word. I couldn't believe it. I was panting to write a sketch," laughs Watson.
Not every idea works on its own, sometimes it'll take a second piece of inspiration to bring the sketch to fruition, explains Oliver.
"The playboy bunnies, for example: we loved the Girls of the Playboy Mansion, that awful reality show, so we wanted to do a sketch around that, but we didn't know how to approach it.
"We also find the idea of retching very funny, but that's not enough on its own, but then we thought, 'oh hang on, we can marry these two'."
"A lot of ideas also just come out of drinking prosecco together," Watson says.
"Not always the best ones, though. We once spent a week up in Oxfordshire in a little cottage, brainstorming, got a bit drunk and, after three days we had one idea, and it wasn't even that strong."
They make it sound like a bit of a lark, going away on brainstorming trips, drinking, throwing around silly ideas.
But those bits are fairly short-lived compared to the regular graft of making a TV show and writing around 180 sketches (which are cut back to 100).
"A sketch show series is over 100 different ideas if you think about it, as opposed to having something with a narrative. So we find we have to take little breaks, otherwise you go a bit mad."
Despite the challenges of coming up with all that funny business, the pair only occasionally differ in opinion on what's amusing.
"Watching comedy with Lorna is quite weird, because she doesn't really laugh out loud. I'll be watching something and laughing my head off, and she'll be sitting in silence, and let's say a joke happens, about five seconds later she'll just go 'ha!', because then she's processed it, decided it's funny, and thought, 'I'll deign that with a laugh'.
"I find everything funny, particularly slapstick, people falling over," says Oliver.
Watson: "If we're struggling to end a sketch, and it can be quite hard sometimes. With Ingrid, it's slapstick every time. 'Can he fall over, or walk into a door?"'
Oliver: "Because I find it so funny. It would be funny at the end of any sketch."
Watson: "The number of times she has suggested it ... "
Who: Lorna Watson and Ingrid Oliver, the stars of comedy sketch show Watson & Oliver
Where and when: UKTV, 8.30pm Jan 3
- TimeOut