Items include a faux marble table and dead horses.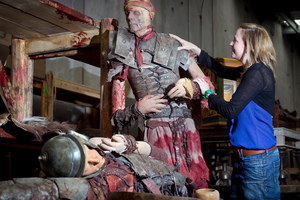 If you're in the market for a dead horse, a bloodied and armoured corpse or some mock artefacts to give your home a Roman feel, an auction this Sunday could be right up your alley.
Hit television series Spartacus is selling all of its props now that filming has wrapped up for good.
After four years of production, the series, which starred Lucy Lawless, right, was cancelled this year after only three full seasons and a prequel season.
And instead of shipping the props back to the US, producers decided it would be easier to sell them here.
This Sunday more than 600 lots will be auctioned off - including taxidermied dead horses, animals hides, furniture and pots - by Webb's and none of the items has a reserve.
Marketing and special sales co-ordinator at the auction house, Helen Winskill, said there had been "a ton" of interest so far and they expected that to climb once viewing opens today.
The auction will be open to international buyers as well as locals.
"Some of the items are quite valuable - the dead horses alone are worth about $12,000," Ms Winskill said.
One of the lots is an office table made of faux marble, which belonged to the main protagonist - the man famed to be the richest man who ever lived, Crassus, who was played by British actor Simon Merrells.
Viewing of the lots opens today at the off-site auction space at 5 Gabador Pl, Mt Wellington, Auckland. The bidding starts at 11am on Sunday.