From cult hit to unstoppable zombie brand, The Walking Dead has become 'must-scream-TV'.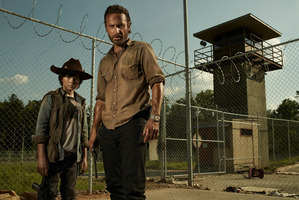 In the first five minutes of the third-season premiere of The Walking Dead, former sheriff's deputy Rick Grimes and his battered and beaten band of zombie apocalypse survivors remain completely speechless. It's a hauntingly stark opening for the popular TV undead drama.
"We meet them after eight months," said Andrew Lincoln, the actor who portrays Rick, sitting alongside Sarah Wayne Callies, who plays Rick's feisty wife, Lori. "There's a huge rift between Rick and Lori. They're more desperate than they've ever been, so much so that in the teaser, no one says a word, and everything is kind of sad."
Everything hasn't been sad for the cast and crew of The Walking Dead, which has risen from surprising cult hit to unstoppable zombie brand. The Walking Dead, which is based on the comic book series written by Robert Kirkman, has transformed into a full-fledged franchise featuring a horde of video games, costumes, toys, books and theme park attractions.
With just a pair of eight-episode seasons, The Walking Dead series amassed a huge following, becoming must-scream-TV. The show's second-season finale got nine million viewers in the US.
The third season, which premieres tonight, finds the survivors coming across the too-good-to-be-true town of Woodbury, a zombie-free enclave that's led by a cutthroat character dubbed the Governor. British actor David Morrissey, who was cast as the iconic villain, is downplaying the Governor's ruthlessness.
"I think, creatively, you'd hit a ceiling quickly if you did that in the TV show," said Morrissey. "You have to give him complexity. You have to give him a sense of motivation and why he's doing these things."
The action in this season's first two episodes is focused squarely on the prison glimpsed at the end of last season, which the survivors hope to make their new secure home.
The makers of The Walking Dead are also pushing their realistic take on the zombie apocalypse into other avenues: an episodic game from Telltale Games; a first-person shooter game due from Activision; and mazes at Universal Studios in California and Florida.
How much The Walking Dead is too much?
"I turned down the perfume," joked Kirkman. "I look at it like, 'If it's cool, that's fine."'
TV preview
What: The Walking Dead season three
When and where: TV2, 10.30pm.
- AP