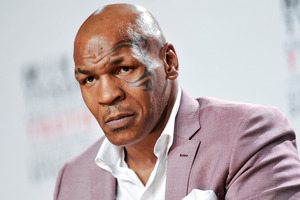 A complaint about Mike Tyson swearing in a live interview on TV One's Breakfast has been upheld by the broadcaster.
Julianna Venning complained after Tyson said "I didn't do that f****** crime'' when asked about an historic rape conviction by presenter Rawdon Christie during a phone interview on October 2.
Christie and co-presenter Nadine Chalmers-Ross quickly moved the conversation along, and in the next news break Breakfast apologised to viewers for the coarse language.
Later in the programme the presenters discussed the interview with Christie saying Tyson "did drop the F-bomb''.
Chalmers-Ross followed by saying, "and we apologise for that - no there is not a five-second delay, this is live telly so we apologise for that''.
The upheld complaint was that Christie did not terminate the interview when Tyson used language unsuitable for a time when children could be viewing, and denied a crime for which he was jailed.
TVNZ upheld the complaint under the good taste and decency standard and the children's interest standard - standards 1 and 9.
The broadcaster's complaints committee found the language was unacceptable but noted it was a live interview and was the first time in Breakfast's 15-year history that such coarse language had gone to air.
"There is a risk in running live interviews - the programme has to trust the guest to respect that it is a live broadcast and mind their language; and unfortunately on this occasion, Mr Tyson did not.
"The committee is aware that prior to going to air Mr Tyson had been fully briefed about the live nature of the interview and timeslot of the programme.''
Tyson was initially granted a special visa to come to New Zealand so he could speak at an event in Auckland in November.
The visa was cancelled three days later.
Associate Immigration Minister Kate Wilkinson made the decision after it was revealed the Life Education Trust, the children's charity backing him, had withdrawn its support.
Another application was made after a new backer emerged - the Urban Maori Authority, a support group for disadvantaged youths in south Auckland.
Chairman Willie Jackson backed the visit, saying he wanted Tyson to speak to troubled Maori youngsters.
The second application was denied.
Tyson served three years in prison in 1991 for raping a 18-year-old woman in an Indianapolis hotel room.
- APNZ