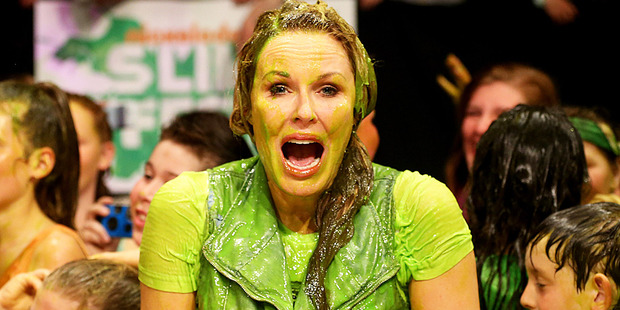 Charlotte Dawson wasn't expecting to get slimed over the weekend - but that's what happened when she turned up for her first day back at work since engaging in a troll war.
Dawson, who was attacked by online bullies and hospitalised two weeks ago, appeared at the Slimefest at Hordern Pavilion in Sydney and said she was sad to be missing out on taking part in the Guinness World record sliming attempt.
"You have to jump in a bucket of bleach afterwards so the hair extensions would come out, the lips would dribble off, it would be a horrifying experience for the children, it'd be a horror movie," she said.
But take part she did, as comedian 'Commando' Steve Willis was dunked himself, and then covered a squealing Dawson in the green, sticky goo.
Dawson told Western Australia Today it was her first day back at work since being hospitalised - and admitted she was following the advice of health professionals.
"I've been at home for the last two weeks so it's really nice to come back to something like this,'' she said.
After experiencing her own brush with bullying on the internet, Dawson said she felt hugely empowered by the event's message and loved the fact that children in the audience were giving her hugs and well-wishes.
"The Dare To Be Square campaign is about being brave and standing up to bullies," she said.
It wasn't just teens and tweens in the "splosh" pit - a fair number of mums and dads got their share of the toxic-looking green gunk.
In the past, Nickelodeon has rolled out the celebrities for its Kids' Choice Awards, but this was something different.
The venue was packed with youngsters and adults who'd forked out A$85 a ticket (not to mention T-shirts at $30 a pop) for the chance to see the first of two concerts by Justice Crew, Jessica Mauboy, Johnny Ruffo and the teens' favourite, Reece Mastin, among others.
They were also taking part in an event to be screened later that evening on the Nickelodeon pay-TV channel and the Guinness World Record for "The Most People Slimed Simultaneously", which was indeed broken, with 3026 fans coated in goo.
Energetically led by popular Nickelodeon hosts Luke and Wyatt, the crowd soon got into the swing of things, chanting "Slime! Slime! Slime!" at the celebrities, including newlywed Brian McFadden and Steve the Commando (from Network Ten's The Biggest Loser).
Commando and McFadden were up for the biggest sliming of the day - the Slime Dunk - along with Dawson and Richard Wilkins, with a large tank strategically positioned to one side of the auditorium.
In the end it was the Commando who won the honour, voted for by Nickelodeon's audience.
Afterwards he christened himself "The New Incredible Hulk" and said he'd had a great time doing it.
"I feel like a kid today,'' he said, "that's why I do this stuff".
One of the highlights of the concert was Stan Walker's performance of Dynamite, which reflects Nickelodeon's positive message to kids of accepting their own looks and personalities, centred on its character Spongebob Squarepants.
Walker said he loved the song's message of daring to be yourself.
"You think you need to be somebody else to be somebody, but being yourself is the best thing you can do,'' he said.
- AAP with nzherald.co.nz