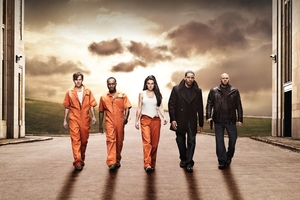 Breakout Kings is decent fast food television: you know what you're getting, it's a tad overdone and one day you'll probably be able to get plastic figurines with it. The TV3 show (Wednesdays, 9.30pm), has been running for two weeks, and both episodes left me satisfied, if not gagging for my next fix. The name conjures up thoughts of bacon and egg muffins from a certain burger chain.
Is there anything left to steal from the get out of jail theme? Unless you count the likes of Hitchcock's To Catch A Thief, enlisting dangerous, unpredictable fugitives doing time to help catch dudes they've probably shared oxygen with in maximum security seems a bit of a stretch. Not to mention embarrassing for the law enforcers who've taken such desperate measures by hiring them. They've already eliminated two untrustworthy eggs from the team.
But baddies are always more interesting than heroes. So how about a crime show from former Prison Break writers Matt Olmstead and Nick Santora in which the heroes are the baddies? Breakout Kings' tagline is "it takes a con to catch a con" and at some point we can expect to see a great escape from that former hit show's favourite jailbird, T-Bag.
Even the marshals are not all they seem. The upstanding Charlie (Laz Alonso) is so determined to maintain control he just about broke down in tears when Ray crossed him. Ray (Domenick Lombardozzi from The Wire) was revealed to be a cop who fell from grace, who nonetheless gets to wield a gun. Naturally the two spent the first two episodes at loggerheads.
So it's not a bad show but perhaps it's more accurate to say "it takes five procedural crime shows to create another procedural crime show". Maybe I'll just never be down with the formula.
This one may be slick but I just don't get my kicks watching crims being taken down week after week, even if it's by their own kind. If a show needs a regular guest cast to do the dirty jobs - Dexter excluded because he's cool enough to do with job without an ensemble - where's the fun in that? Those who disagree might find that at least Breakout Kings features some cool prison breaks.
In the pilot, a fugitive called Tillman executed a Cape Fear-style escape clinging to the bottom of a moving truck; we can probably expect more where that came from.
But I'd rather have characters who aren't just there to act as pawns for the story. That's why even the intriguing ones already grate. Particularly the guy given the opportunity to do, arguably, the most acting and provide the most exposition: Lloyd Lowery, a psychologist with a gambling problem.
The Flawed Baby-Faced Genius that just about every show of this type needs is a combination of Spencer Reid from Criminal Minds, Patrick Jane from The Mentalist and Ben Linus from Lost. Jimmi Simpson does a good job playing the intellectual but tactless creep with mummy issues and although he got the pilot's funniest "who farted" line, much of his analytical schtick feels contrived.
Then there's Julianne Simms (Brooke Nevin), the neurotic technie who works the laptop. Whaddya know, Lloyd might just have a crush on her.
As for the other somewhat sidelined females in the bunch, in the pilot we met Philly (Nicole Steinwedell), a former Miss Idaho who used her looks to con people. She was gone by the second ep, only to be replaced by the surly Erica (Serinda Swan), a trained vigilante who is presumably more fun to write because she's mysterious.
To watch? Hmm, not yet. But Breakout Kings could be good, especially if it's washed down with fries. It's gritty and entertaining. Just a little, well, imprisoned.
-TimeOut