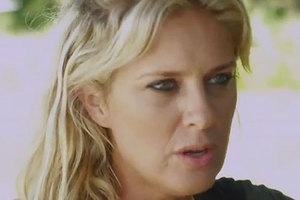 The trailer for Piranhaconda - a low-budget made-for-TV movie starring Kiwi model Rachel Hunter - has hit the internet.
Hunter stars in the B-grade movie as Talia, one of the film's stars set to take on a giant fish-snake creation alongside Michael Madsen, Rib Hillis and Terri Ivens.
In promotional material, the film's plot is described as involving "a low-budget horror movie crew, inept kidnappers and a reptile expert battle a monstrous anaconda/piranha hybrid in the Amazon jungle".
The hilarious trailer shows Hunter shooting at the creature with a machine gun, and engaging in this immortal piece of dialogue:
Man: "It's like an unholy union between a piranha and an anaconda."
Hunter: "You mean a piranhaconda?"
Man: "I can't believe you just said that."
This isn't Hunter's first acting role.
She has appeared in the film Swamp Volcano, the 2004 Christmas special of The Vicar of Dibley, and was a contestant on the US version of Dancing with the Stars.
Piranhaconda is set to air on the Syfy channel in the US on June 16.
- Herald online