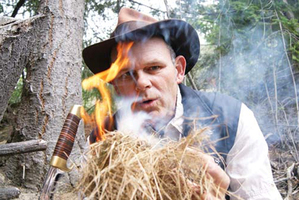 A new "survival" experience is giving people the chance to emulate adventurer Bear Grylls but without the risk of death if they get it wrong.
Queenstown-based Guided Nature Walks has seized on the success of the popular Man vs Wild television show by offering its own You vs Wild tourist experience.
The company yesterday said although its concept might have a striking similarity to the television show in name, it does not believe it is at risk of infringing on the intellectual property of Grylls or Man vs Wild.
Led by former UK bodyguard and survival expert Peter Hitchman, the You vs Wild experience gives people a taste of what it is like to survive off the land with nothing but a knife, the few possessions they have on them, or discarded items.
Mr Hitchman, who worked alongside two former SAS soldiers in his job looking after pop group Duran Duran in the 1980s, first put his skills to use leading survival camps for teenagers and corporate groups.
"Now I take people out into some stunning back country and, on a half-day walk, introduce clients to the wilderness of Aotearoa, teach them how to make a fire, how to build a bivouac shelter, what plants are safe to eat, how to make pain relief, how to find north the celestial way and how to harvest and filter water so that it's safe to drink."
"These are just a few of the skills you'd need to stay alive if for whatever reason you were caught out in the wilderness, and it's amazing just how much fun people are having."
Grylls shot footage for his Man vs Wild show in New Zealand last year, abseiling down a 40m waterfall using a flax rope, and dining on possum, huhu grubs and a tree weta.
He later gave the New Zealand wilderness the thumbs up for a survival test.
"I was shocked by how wild it was. Some of those rainforests, and that mountain range [the Southern Alps], are huge, and that's the magic of the country," said Grylls.
The Man vs Wild show was cancelled by Discovery Channel earlier this year. Mr Hitchman and his company had not been in contact with Grylls or the makers of the television programme.
While people were quick to seize on the similarities between the show and the You vs Wild experience, Mr Hitchman did not think it was too similar to present a legal problem.
His company did not refer to Grylls or Man vs Wild by name, but did refer to a "well-known television programme", he said.
The You vs Wild walks run twice a day, year-round, and there is an option to do a 'drop zone' trip with Queenstown helicopter firm Heli Tours.
After flying across Lake Wakatipu, clients are dropped into a remote valley and left to find their way back to civilisation with their guide. About 70 people have so far been through the You vs Wild experience.