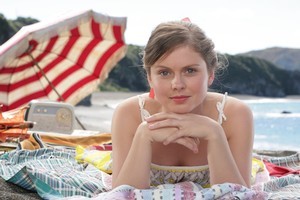 MUSIC
John Rowles, who rose from being "the Kawerau kid" to New Zealand's Elvis ends his North Island tour tomorrow night. At 65, he has decided this will be his last ever.
Meanwhile new singer-songwriter Hanna Grace is on her first tour to celebrate her debut album, Concrete and Roses. She plays at the Juice Bar in Parnell.
American indie acts The Get Up Kids and Owl City are also passing through Auckland this week, the latter playing an all-ages gig in the atmospheric Town Hall tomorrow night.
MOVIES
There's more in cinemas this week than just over-exuberant theatre geeks performing a live show in 3D. Kate Hudson recycles the role of nightmarish best-friend and bride-to-be in romantic comedy Something Borrowed. She plays Darcy, the vivacious blonde with the man and the ring. But then her BFF - Rachel, played by Ginnifer Goodwin - ends up between the sheets with Darcy's fiancee.
Dun dun dun.
Elsewhere, James Bond meets Indiana Jones and extraterrestrials in Cowboys and Aliens, a title that doesn't really leave much to the imagination.
For something a little more challenging, there's Incendies, a French-Canadian drama that won best foreign language film at this year's Academy Awards and, of course, quirky Kiwi director Florian Habicht's film Love Story, which opened the NZ International Film Festival has its mainstream release today.
TV
Rose McIver said filming Tangiwai, a lump-in-your-throat telefeature screening on TV One this Sunday, made her read death tolls in Christchurch and Japan not just as figures but as terribly sad stories. New Zealand's horrific rail accident in 1953 killed 151 people, including the young fiancee of New Zealand cricketer Bob Blair, and this film tells their tragic love story.
Elsewhere on the box, there's TV3's Rock the Nation, which was bumped back in the schedule to this Wednesday night, and to coincide with the lead-up to the Rugby World Cup and Auckland Restaurant Month, celebrity Aussie chef Sean Connolly embarks in a race against the clock to get his new fancy restaurant up and running in Auckland's CBD in TV3's Under the Grill.
OR...
Visit Hong Kong from Newmarket's Rialto cinema, which is running a string of films this week for the Hong Kong Festival. The Bruce Lee biopic My Brother - made by the martial arts legend's younger brother Robert - opens tonight at 8.30pm.
- TimeOut