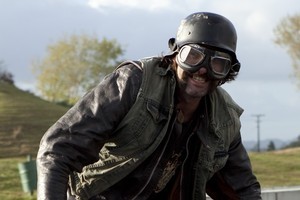 The TV show that turns young inventors' ideas into reality just got a whole lot more dangerous.
The new Inventor Mentor, Mr Metal, is none other than Chris Stapp, who, in a past life, starred as crazed try-anything stuntman Randy Campbell in the film The Devil Dared Me To, and was one of the reckless lunatics and creators of Back of the Y.
As well as jumping off buildings on a BMX, Stapp is one of the few people in the world to leap off the back of the Y on the Hollywood sign in Los Angeles.
Basically, he's made a living out of doing stupid stunts.
So what's a madman like this doing leading some of our finest young brains astray?
Well, while he likes to blow stuff up, he's also well-versed in all things mechanical, and even though he's done his fair share of crazy things even he finds some of the kids' inventions extreme.
"They were awesome," he says. "A really nice mix of clever, useful and extremely dangerous ideas.
"I'm looking forward to the day when we can all be eating at automatic tables while chainsaw robots do all our chores."
Now in its fifth season, Let's Get Inventin', presented by "Build Buddy" Clinton Randell, gives young inventors a chance to develop their creations - and even have their idea patented.
In the past, these young hotshots have come up with gadgets that have included rocket-powered ice skates and a jet-powered hovering skateboard.
This season, there is a water-walking invention, a table that sets itself, and - just in time for the World Cup - an "explosive" rugby ball-kicking device.
This series also features 14-year-old Cheree Kinnear's disaster alert system (DAS), which won the ASB Bank Next Gazillionaire competition.
Her cellphone-sized DAS unit plugs into the wall and receives alerts from Civil Defence about any impending disaster - and then, with a back-up battery that lasts two weeks, it can be unplugged to receive messages from authorities during an emergency.
In this week's first episode, Melanie Puckett of Ashburton comes up with a game called the Human Skeet Shoot.
The 12-year-old's bungy-powered catapult throws people into a swimming hole as kids armed with tomato-shooting bazookas fire at them.
Sounds scary but fun.
When: Sunday, 5pm
Where: TV2
What: Young Einsteins
-TimeOut