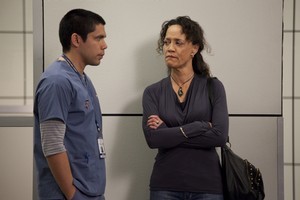 Shortland Street has been the training ground for many a New Zealand actor and now even one of the country's most celebrated actresses says she is learning more than she imagined she could from the show. Rena Owen, best known for playing Beth Heke on Once Were Warriors and its sequel, makes her first appearance as Scotty's (Kiel McNaughton) estranged mother Hine Ryan this week. Stealing a few minutes on the phone between scenes, Owen admits she has never been on such a high-pressured show.
"I've never had to work so fast in my entire career and by gosh do you have to be on top of your game. I would like to think it has helped me be a better actor.
"I'm in awe of Shortland Street, it is such a well-oiled machine, you don't get time to think about anything else, I'm definitely having my work cut out," she says.
Owen has been living in Los Angeles for the best part of 10 years, where more recently she has been honing her film-making skills.
She has been popping back and forth from New Zealand for various projects, and says this time it was the prospect of such a juicy character that lured her home. Hine is a former drug addict who ran away and abandoned her children, then later learned to deal with the errors of her past, and made amends with her son.
"What attracted me to her storyline is there is such a lot of hope. She's an example of people being able to change, and of reconciliation which I think is very needed among our own families and others around the world," Owen says.
"I think it's completely relevant. Not just to Maori families but to all kinds of families. We are living in an era now where disenfranchised families are very common, unlike in the era I grew up in. This is a family trying to fix itself."
Hine may have been a troubled mother, but she totally different to Beth, Owen says. "Beth wasn't a drug addict, she didn't run away from her children, she actually hung in there through thick and thin. She loved her husband, she was absolutely in love with him."
She says she is excited to star on the much-loved New Zealand soap, following in the footsteps of her Warriors co-star Temuera Morrison. "I've always wanted to be on Shortland Street, because it's the most watched TV series in the country, it will always be part of our pop culture history, and I think for every New Zealand actor it's an honour to do your bit on the show," she says.
Although the only characters she recognised when she returned were long-standing pillar of the show Chris Warner (Michael Galvin) and recently returned Rachel McKenna (Angela Bloomfield), she says it didn't take her long to slot into the team.
Hine's first few episodes will be dramatic, Owen says. "There's a lot of good juicy scenes between Hine and Scotty. Then there's a lot of scenes between Hine and Tracey. There's a lot of great woman to woman stuff. Really I have been so impressed with the writing."
LOWDOWN
When: Monday, 7pm
Where: TV2
What: Rena takes it to the Street
-TimeOut